WEINIG OptiCut S90
WEINIG OptiCut S 90 series: Unlimited range of applications and high productivity combined in one series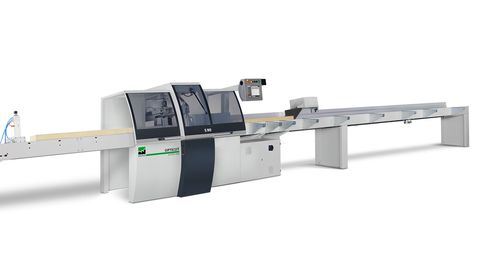 ---
Improve your value creation from cross-cutting – cutting precision, flexibility and optimal safety – the automatic optimizing cross-cut saws with positioning pushers of the DimterLine OptiCut S 90 series offer all of this combined with high productivity. Whether cutting single boards or packages of boards, profiles or rods in solid wood, panels or even plastics, modern operations need this flexibility – in fixed-length cutting, when cutting out defects and for optimization.
The Dimter Line series offers you innovative mechanical engineering from cross-cut saw specialists combined with state-of-the-art control technology and software – everything from a single source. You can decide on the level of equipment and extension, whether a single machine or fully-automatic linked cross-cutting line with integrated work piece recognition – now or later. Flexibility is retained at all times – e.g. via the "manual cutting" function.
All machines in the OptiCut S 90 series can be easily operated for the OptiCom terminal. Create a cutting list and off you go! Operating safety is also guaranteed under extreme conditions And another advantage: Customers of DimterLine machines benefit from the service of an experienced manufacturer and the security of the worldwide presence of WEINIG.
---
The WEINIG OptiCut S 90 series provides
Technical Details
---
For more information, kindly contact one of our Sales Managers