MARTIN T45
The T45: Quick and quiet for precise planing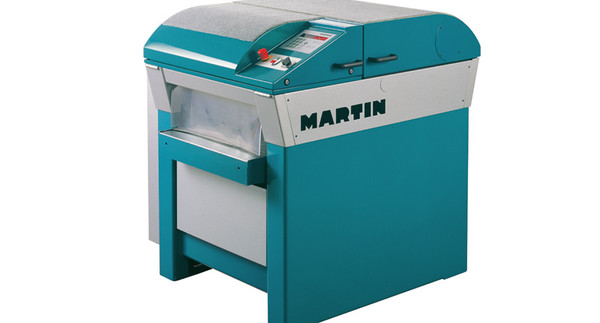 ---
The T45 planer provides ideal conditions for the modern manufacturing environment: It delivers cleanly planed surfaces, is quick and easy to use and operates with very low noise emissions.
The standard electronic control unit, with 99storable planing dimensions, makes setting theplaning height so easy that even the first piecefits like the last piece.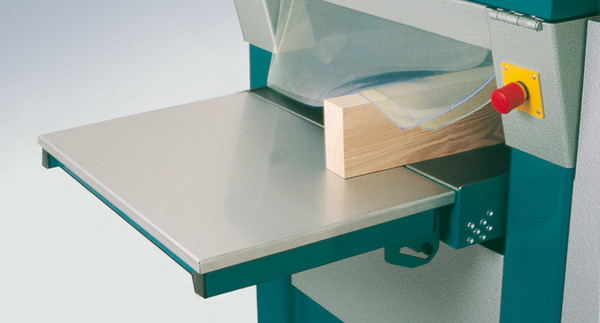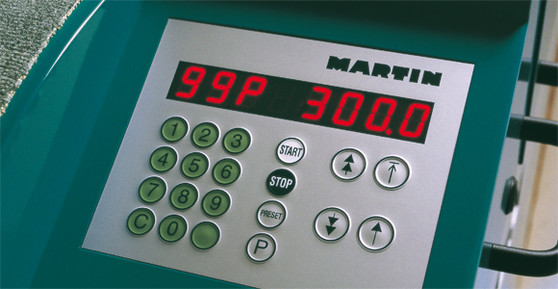 Perfectly set at the first attempt
The standard electronic control unit, with 99 storable planing dimensions, makes setting the planing height so easy that even the first piece fits like the last piece. The thicknessing table can also be moved in increments of 0.1 mm by simply depressing the button. The controls for the feed rate are also within easy reach of the operator. The T45 comes equipped with a soft start Star Delta starter and an electronic wear free spindle brake.
The power is in it's silence
The vibration dampening machine frame, along with the optimally balanced cutterhead, guarantee outstanding planing results. Furthermore, the machine's sound-absorbing construction and modern industrial design ensure a comfortable, whisper-quiet operation. The 1260 mm long, warp resistant cast steel machine table is mounted on four supporting screws. In a planing operation, the workpiece, the feed rollers and pressure beams all cause shear and compressive forces. The compressive forces are absorbed effectively by the four supporting screws. Two large vee guides divert the shear forces into the solid compound machine base….a solution that is as intelligent as it is extensive, which consistently ensures perfectly machined workpieces.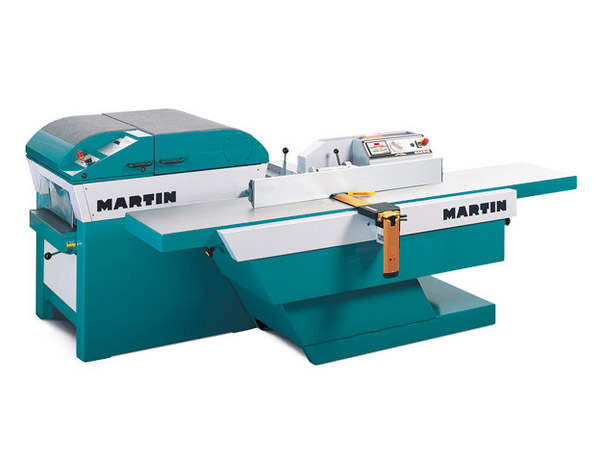 Clever combination saves space
Clever combination saves space Unlike combination machines, the MARTIN T45 and T54 function without the need for timeconsuming changes and, thanks to the spacesaving installation, both of the machines fit together in small footprint. In contrast to the combination machines, both MARTINs can also be operated at the same time and because of their close proximity to one another, they can even be operated by one person. The dust collection ports can be attached to either the left or right-hand side of the T45, allowing you to optimize your dust collection system without restricting material and work flow within your facility. Of course, both T45 Contour machines can also be combined with the T54 for a perfect "planing and profiling center". You can create unique possibilities with this duo, going far beyond the combinations that have been familiar to our industry so far.