NESTRO Open Sanding Booth
3600x2400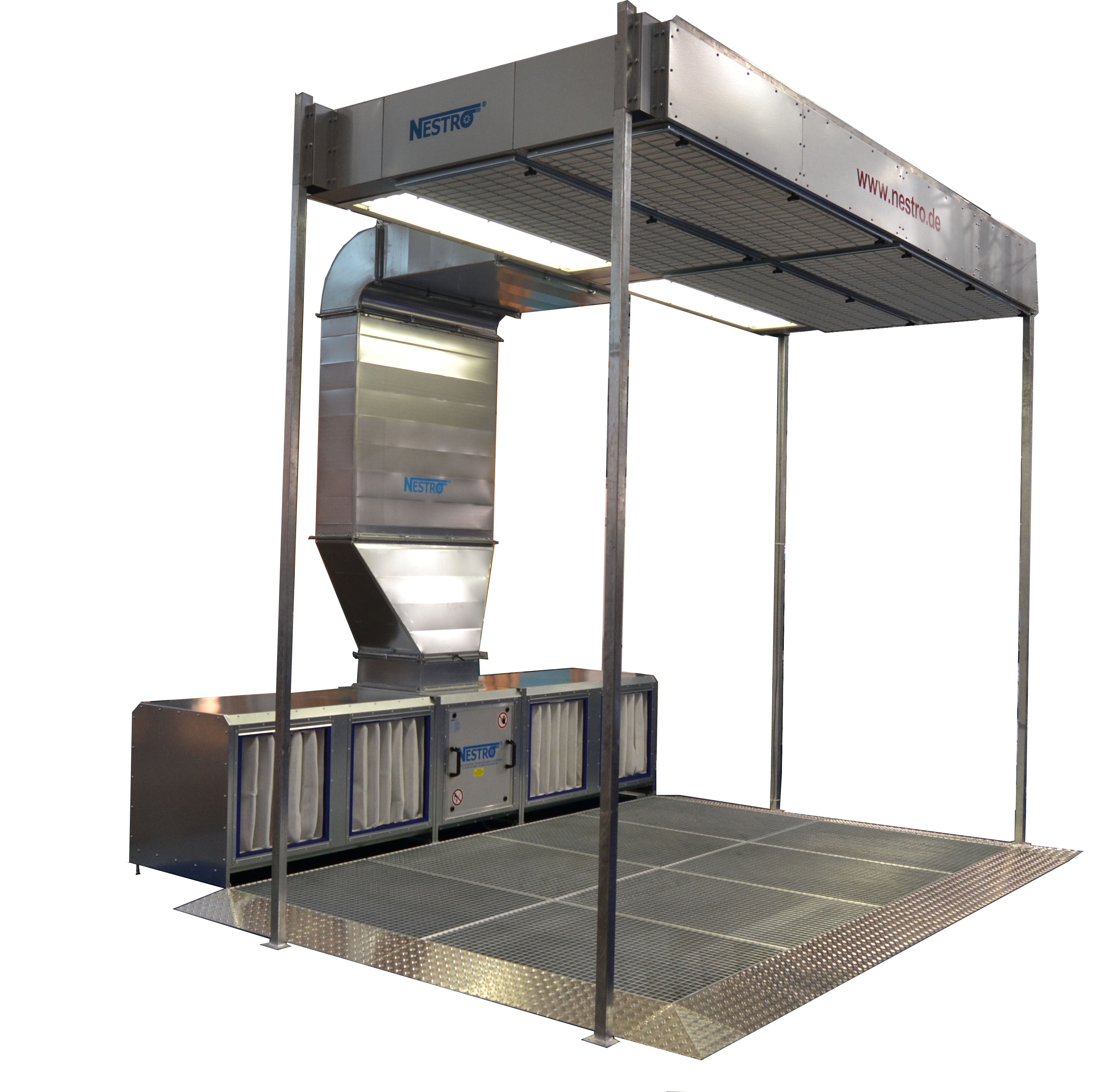 ---
This Nestro low cost sanding booth is perfect solution for cleaner environment. It is working in very simple and very efficient way. The sanding booth can be placed anywhere in the factory in open space.  Sanding booth is working with recycled air. The air ceiling unit pushes the air from the top, while the air sanction unit on the side is sucking the dusty air. It is assuring pressure balance as well, so, no hot air will come from outside! No treatment of surface!. The remaining dust will be cached by touching the water surface which will be in the water basin on the floor! (metal gridded floor with  2 cm level of water only) .Water will evaporate periodically so you can clean the remain dust by vacuum that time. No troubles with recycled water!. Working area is sufficient for one door for example, or you will have two working places for smaller pieces. This is only good solution for sanding the bigger pieces, because those pieces would cover all the surface of the standard  sanding tables, which are useless than. Also it is only good solution for hand router operations which creating a huge amount of dust! In combination of 2 or 3 of these boots next to each other you will get  a flexible solution with a working area of 7.2 x 2.4m or 10.8 x 2.4m! The one more advantage of this system that it can be occasionally used as paint booth if necessary, so paint mist will be collected by water surface and suction unit as well.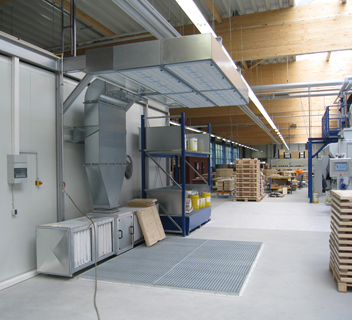 Fan
With high-capacity radial fan; impeller with back-curved wing blade section; spark protected. Drive by adjustable double V-belt pulley with electrically conducting V-belts.
Vibration-proof mounting on an independent frame with silent blocks or by means of a flexible coupler between the unit and the duct. Motor set up on a clamping carriage for the quick and simple tensioning of the V-belts.
Motor in explosion-protected and pole-changeable design EXX de II C T 4.
Filter ceiling
A uniform and draught-free flow of supply air will enter the room through two large filter ceilings (4 pcs l x w = 2 000 x 680). The galvanized filter ceiling elements are mounted in a quick-change frame which facilitates the speedy and simple change of the filters.
---
Founded in 1977, NESTRO® Lufttechnik GmbH today is one of the largest established European manufacturers of extraction and filter technology products and systems, the downstream heating technology and surface engineering (extraction of grinding dust and paint mist) as well as sorting and disposal technology. More than 150 employees are engaged in development and production according to individual customer specifications for the woodworking and wood industry, the paper and corrugated industry, the plastics and metal processing as well as for the waste and recycling companies.
We think in systems and act for our customers. With us, you get everything from one source and optimally geared to each other. Our love of detail is not a luxury – it is the foundation of NESTRO®'s quality, because the smallest parts gain undesired importance when they break down. We know this area so well that we can coordinate all components with each other so they are streamlined. Identifying with our product and our long lasting experience in the extraction and filtering systems have resulted in an outstandingly high endurance for daily use. Our products are characterised by reliability, safety, efficient use of energy, reduced cost savings, integrative capacity, modularity and options for system integration and conservation of resources. The integrative capacity of our systems for existing system architectures as well as third-party systems highlights our goal of total customer satisfaction. NESTRO® systems cannot only be freely dimensioned and grow without a problem, they can also be used for very specific applications. One thing is certain – our systems will be compatible with your future.
NESTRO® is certified under ISO 9001: Quality from receiving area to the outgoing product. All new developments as well as any customer-specific test assemblies are tested realistically and rigorously in our own in-house testing booth. This approach creates independence. CAD/CAM assembly enables the required dimensional accuracy of all the components and systems made by us. And you can assure faultless functioning and optimal energy consumption for our products and systems over many years by using our maintenance contracts.