HOLZ-HER ZENTREX 6220
High Performance Beam Saw ZENTREX 6220 classic and ZENTREX 6220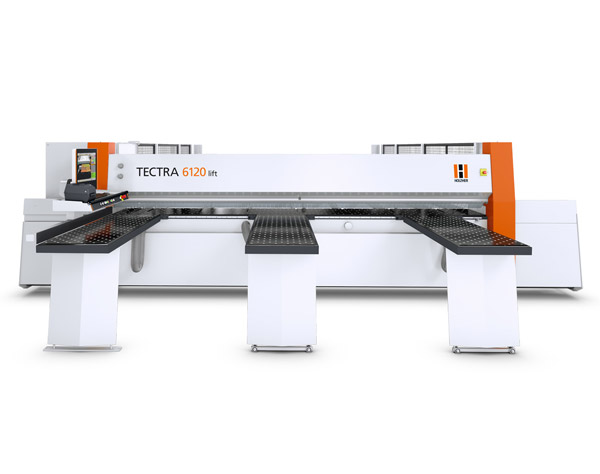 ---
The ZENTREX 6220 combines high precision equipment, such as hardened and round linear guides and a heavy duty design with dynamic, high speed servo-drive technology from CNC engineering. The specially developed PLC control guarantees extreme accuracy and shortest cycle times.
Outstanding reliability, maximum operating convenience
Rip fence return speed: 100 m/min
Positioning speed: 25 m/min (CE)
Sawing unit return speed: 150 m/min
Infinitely adjustable sawing unit feed rate: up to 130 m/min
Beam opening: 190 mm
Saw blade protrusion: 105 mm | 130 mm
Precision cuts even at extreme cutting heights
Solid Air Cushion Table The machine table is equipped with air nozzles to form an air cushion before and after the cutting line, ensuring easy and gentle panel handling. The air cushion table in front of the saw is distinguished by the support on the machine column and optimum human engineering providing maximum legroom.
Angular Pressure Unit (Program Controlled) [Fig. 1] – Servo-controlled – automatic preliminary positioning for pressing length of 35 up to 2.100 mm for gentle material handling. (Optional for classic) – Rotating pressure roller prevents damage to workpiece. – TwinPress – applies pressure to both sides of the workpiece in front and in back of the cutting line. (Optional for classic)
Remnant Cutting Device For cutting without remnants. The clamps retract into the grooved pressure beam. This ensures that panels are fully utilized during machining.
Clamps [Fig. 2] The extremely solid clamps are mounted floating on linear guides. Workpiece and package thicknesses are detected automatically by the clamps for automatic infinite control of the cutting height and pre-positioning of the pressure beam. For you this means better cycle time and cutting quality.
CutControl 2 [Fig. 3] The high performance software package for large HOLZ-HER industrial saws. – 21,5″ Flat screen as standard feature – Graphical 3D user interface for intuitive control – OptiCut and EasyPlan optimization software preinstalled – Label printer (optional) for barcode labels (also data matrix barcode incl. software module for creating labels).
Rip Fence [Fig. 4] Precision guided, freely programmable rip fence on linear guides with dynamic servo-drive. Up to 3 double finger clamps in stop area allow narrow strips to be cut simultaneously.
Sawing Unit with up to 25 kW for Enormous Cutting Potential [Fig. 5] The patent-pending sawing unit is distinguished by its performance, precision and enormous cutting power. The saw blade is moved to the desired height in seconds by the servo-motor. Here the powerful drive motor remains in position and does not have to be raised. This allows infinite movement to grooving depths and saw blade protrusions of up to 130 mm at enormous speed. Panel stacks can be cut easily by the high power motors. The prescoring saw can be adjusted under program control using the servo-technology. A postforming saw for material thicknesses up to 50 mm with drive power of 3.0 kW is also available as an option.