HOEFER HKP feed-through press (doors)
HKP feed-through press for door production – 1 man operation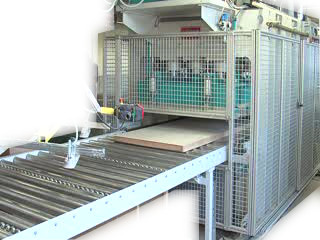 ---
The automation level of this machine allows that only one man canoperate the machine. The input of the panel into the glue spreader ismanual. On the driven roller disc way  the boards are tranported to thematerial slide. With this slide, the board which is glued on both sides, is transported over the previous veneer onto the lay-out table. Now, the operator turns the lower veneer in the right position and slides  the panel down. Subsequently, the bar of the material slide is raised pneumatically and returns to the starting position.
With help of the veneer-carriage the user lays the top veneer on the board. The only thing that is left is to moisten the top veneer according to the different types of veneer. Then the veneer is transported to the press. The belt-shake device avoids that the workpieces sticks on the upper heating plate. The conveyor belt then transports the finished door plank  onto the outfeed roller conveyor. With a vacuum lifter the door is placed onto the load to cool down.

This process is shown on the short production video.