WEINIG VarioRip
WEINIG VarioRip 310: The intelligent concept for profitable cutting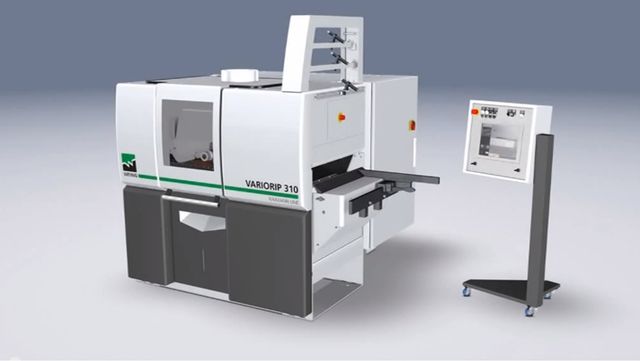 ---
The compact, robust VarioRip is the ideal machine for small and medium-sized operations. Whether as a multi-blade or optimizing rip saw, the new VarioRip 310 impresses even in the standard version with high-quality equipment and excellent user-friendliness. The patented Quickfix quick clamping system enables rapid retooling.
SafetyPlus, developed and patented by WEINIG, ensures optimal operator protection.
Upgraded with up to two automatically adjustable saw blades, the VarioRip offers an intelligent entry into wood optimization. The modular design allows the VarioRip to be optimally adapted to every requirement.
The WEINIG VarioRip provides
Perfect cut quality
Short setup times
Easy to operate
Low space requirements, compact design
Highly reliable
Moving blades: Unlimited flexibility
In terms of ripping, changing timber widths, qualities and defects mean average wood losses of 8% with a standard fixed arbor setup. The RaimannLine moving blade technology ensures efficient use of the raw material. With one or two automatically adjustable saw blades, you can adapt your VarioRip individually to any rough board.
Optimizing timber yield in this way reduces your material and warehousing costs significantly. In other words, wood optimization means cost minimization.
The almost unlimited possible combinations of fixed and movable saw blades also decisively increase the flexibility of your production, thus enabling just-in-time and small batch production.