MAYER PS 80
Panel Saw 3200 x 3200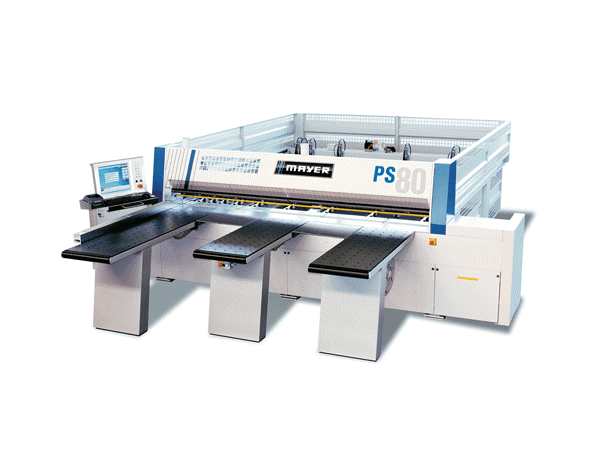 ---
MAYER, the German company  has been producing Panel Cutting Saws for cutting wood based material, plastic material and nonferrous metal since more than 50 years. Machines from 80 to 255 mm cutting height are offered.        With saw motors from 9 to 75 KW and with a cutting length from 1200 to 9000 mm. Single axis machines with manual loading and fully automatic angular systems are produced. Mayer-known quality in terms of sturdiness and reliability has been coupled with modern design. The ergonomic control panel and intuitive software make operating the machine easy and reliable The machines are characterized by a very sturdy construction, high precision and accuracy of cut.
The PS 80  STANDARD
is the perfect start into professional panel-sizing and sets standards in the compact class for horizontal panel saws.
In detail matured constructions, careful working, highest precision and most modern design gives this machine the special touch.
 Basic machine:
Feed speed infinitely variable from 5 – 100 m/min. return speed approx. 130 m/min.
Dust channel left hand side for connection to dust extraction plant diam. 120 mm
Saw carriage travels on rounded guides.
Fast and jerk free travelling speed because saw carriage is driven by rack and pinion (no chain).
Adjustment of cutting length by laser sensor
Slotted clamping beam for dividing the panels without residual parts
Transparent segment safety guard (flap lamellas) enables the operating personal the view on the cutting line
Quick changing unit for main and scoring saw
Manual cutting height adjustment – 2 steps
Control console turn able
Machine is CE certified and dust proofed
Specification:
Saw motor                                          9 KW
Saw blade dia. max.                           320 mm
Saw blade projection max.                  80 mm
Length of cut                                      3200 mm
Working height                                       1000 mm
Dust suction air volume                         3000 m3/h
Voltage                                                  3 x 415 V / 50 Hz
02   18021
SCORING AGGREGATE 1,1 KW, FOR SAWBLADE 150 MM
Scoring aggregate pneumatically lowering in return, scoring motor 1,1 KW
(1,5 hp), for scoring saw blade 150 mm dia, con.
03   18031
CROSS CUT TABLE – 2000 x 600  AIR FLOATATION
Cross cut table in air floatation construction on the left to the
front, 2000 x 600 mm. with infeed roller at the front side and
strong cross cutting rail 2000 mm long, behind cutting 650 mm.
04 18131
ADDITIONAL FRONT TABLE  –  AIR FLOATATION
to front in air floatation construction
2 pcs, size 2000 x 600 mm
05   03 -18041
MATERIAL PUSHER
TRAVELLING WAY 3200 mm
Bilaterally guided material pusher, driven by rack and pinion and
AC servo motor, advance 25 m/min, return speed 80 m/min.
separate and contact free magnetic measuring system,
rear supporting table consisting of 9 double roller tracks.
Cutting length and travelling way 3200
06   18112
CLAMPING DEVICES AT THE MATERIAL PUSHER
Single finger system,
opening height 75 mm.
6 clamps
07   18141
SIDE PRESSURE UNIT BEHIND THE CLAMPING BEAM
fully automatic adjustment, working area from 20 to 1200 mm
08   14077
ELECTRONIC CONTROL  –  PC6200
Modular constructed control system with 19" TFT Flatscreen.
A PC with the latest specification is used. Operating system:
Windows 7. The control is prepared for an online connection
and for the connection of a label printer. The control can be easily
connected to a local network. The data input is reduced to a minimum
and therefore very easy. The trim cut for example is calculated
automatically and there is the possibility of an edge correction.
The actual residual dimension in length and width direction is always
indicated during the input so that the operator must not make any
calculations. During working the cutting sequence is shown (moving
pictures). Through it you can always see which component is being
worked and how the parts have to be put into the machine. The
following keys are mounted at the cross cut table:
closing of package clamps
automatic trimming
emergency stop
09 Saw blades:
1 TCT SAW BLADE , 320  x 4,4 x 30 MM,  60 TEETH
1 TCT SAW MAIN BLADE , 355  x 4,4 x 30 MM,  72 TEETH
1 TCT SCORING SAW BLADE, 150 MM DIA.,  28 TEETH
INCLUDED OPTIONS:
10   14073
OPTIMIZATION PROGRAM EASY OPTIMIZER
integrated in the control. Only the component description, the component
dimensions with number of pieces and if existing the veneer direction
have to be entered. Then the program produces automatically the cutting
plans. The effort to enter data is reduced to a minimum. As the optimization
is executed at the machine, there is no problem with the offcuts. They can
be used immediately for the next optimization run.
11 18752
AUTOMATIC CUTTING HEIGHT ADJUSTMENT BY MOTOR
for the saw blade. Lifting and lowering of the saw blade by means of
positioning motor. The pack height is measured by special measuring
system. Because of this a constant Blade projection is achieved independent
from the pack height and the saw blade diameter. This unit can also be used
for grooving. The depth of the grooves can be entered at the control. Each
groove can have different dimensions.
13   14082
AIR CONDITION
For switch cabinet
---