Weinig Powermat 700
5 Head Moulder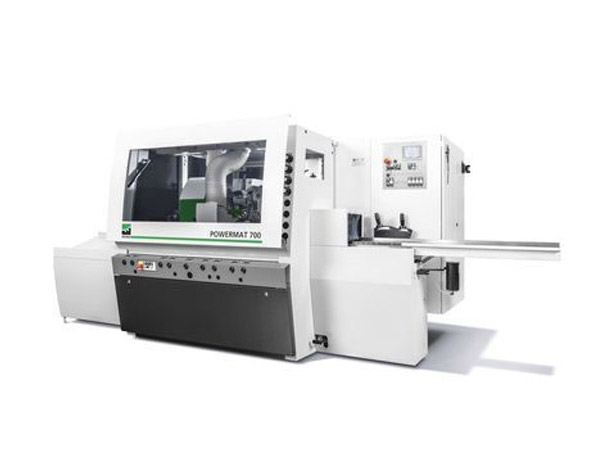 ---
FOR MORE INFORMATION, YOU MAY GET IN CONTACT WITH YOUR GERMAN TECH MACHINERY SALES REPRESENTATIVE
The Powermat 700
is designed with a revolutionary new operating concept which no other molder can offer. The result: improved ease of operation and very short setup times offer the highest degree of flexibility. With these outstanding qualities the new Powermat is the perfect response to the market demands of today and sets a new standard for four sided processing.
CLICK ON THE PICTURES TO ZOOM IN.
The WEINIG  Powermat  series provides :
Innovative machine technology
High production accuracy
High level of work safety
Modular design
Made in Germany
The WEINIG  Powermat 700  provides:
Highly user-friendly
Enormous savings in setup time
High level of repetition precision
Outstanding surface quality
High resource efficiency
Excellent safety features
Sustainable machine concept
1618646 Tool arrangement no. 017
Operating Comfort Set:
A unique operating concept with scales and clear measurements located at all
relevant setting points in the machine.  All setup requirements can be performed
either wrench-free or with the assistance of only two hand tools.
This results in ergonomic and safe set up for the operator, short set up times
and high quality of the end product.
TECHNICAL DATA :
Working width (with tool cutting circle 93-125mm)                       20-260 mm
With tool lengths of more than 240 mm, speed max 7000 rpm
Incl. air pad system in the machine table
When using conventional cutting spindles, the horizontal tool holder
can be used in combination with Weinig special cutterheads for
smooth planing with working widths over 230-260 mm
1140694
Cost component per spindle for 260 mm working width
Working height (with tool cutting circle 93mm on top spindle)     10 – 200 mm
Quick disconnect dust extraction hose             
Your advantage:
Reduced setup time and greater safety due to improved
access to the left spindle and the area in front of it
35973               Two lateral roller pressure in front of left spindle revolving and spring mounted
1649093            Split pressure shoe in front of top spindle with horizontal plane of adjustment to the tool cutting circle and receding from the tool,  spring loaded
Your advantages:
Precise positioning to the tool diameter for ideal control of work pieces
No need to change the chip breaker shoe
256346             Pressure shoe in front of and guide after top spindle with electronic
digital displays integrated in Memory function or PowerCom.
SPINDLES   IN GENERAL
118308             All spindles with highly concentric running
Optimized flow of dust and wood chips due to aerodynamic hood design
Your advantages:
Energy savings due to reduced performance requirements from the dust extraction system
Reduced noise emission
Air volume requirement per spindle with hose Ø 160 mm                        1680 – 1920 m3/h
and air speed of 23-26 m/sec.
FEED SYSTEM
1617184           Feed speed electronically variable incl. brake     5 -40 m/min
1004238           Motor                                                              5 kW (6.8 HP)
257733             Feed roller in front of 1st bottom spindle pneumatically moved "up-down"
All feed rollers with quick clamping
Your advantages:
Quick positioning of feed roller tracking
Quicker exchange of feed rollers
7133118           Durofer green timber feed rollers for extremely wet and dirty timber, self-cleaning
256409             CNC-controlled adjustment and positioning of feed up/down in
combination with Memory – Function or the PowerCom
FOR MORE INFORMATION, YOU MAY GET IN CONTACT WITH YOUR GERMAN TECH MACHINERY SALES REPRESENTATIVE
---