KUPER QFS 850
KUPER QFS 850 System Josting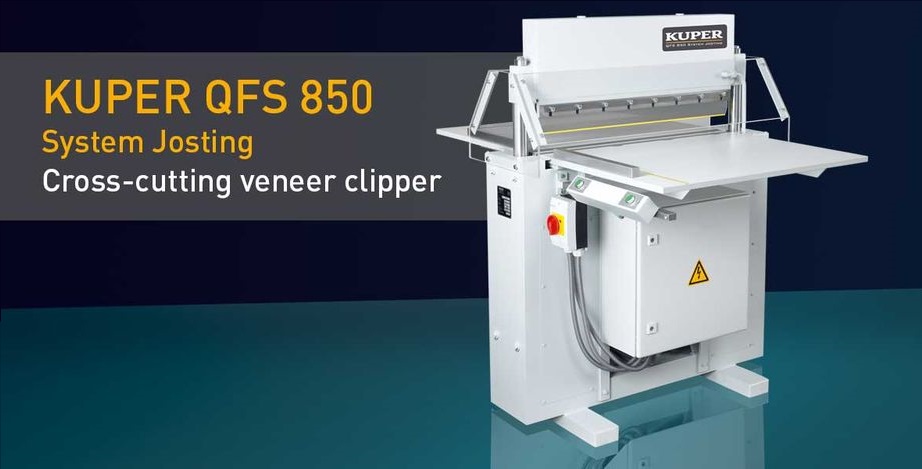 ---
The KUPER QFS 850 is made for quick and neat cutting to length of veneer packs. Tear-out-free cutting is assured by the powerful, vertical operation of the knife. An excellent view of the veneer and cutting area is afforded by the narrow construction.
perfect for quick and neat cutting to length of veneer packs
narrow construction
cuts of highest quality thanks to the swinging and powerful drawing motion of the knife
Function
A green light beam clearly indicates the cutting line. Lengths are indicated on 2 measuring tapes. The pressure bar is lowered at the same time as the knife. Quick and powerful operation of the knife is assured by a brake motor, gear unit and crank drive. The cut is actuated by a two-hand pushbutton control. Control operations can be performed directly adjacent to the cutting area on the right or left-hand side.
If you need an angular arrangement on the right or left-hand side of a longitudinal veneer jointing guillotine or on both sides, we will design the work tables accordingly.
The machine is equipped with a safety-orientated electric control system, a Plexiglas guard and plug-in type angular stops.
Also available on request: Work tables of greater lengths with intermediate supports and length stops.
This special machine promises you high performance, minimum maintenance and optimum veneer cuts.
Technical Details
---
Cutting width
850 mm
Insertion height
60 mm
Max. thickness of single sheet
for sliced and peeled veneers
approx. 3,0 mm
Operating voltage standard
400 V, 3 Ph, 50 cycl. or special voltage
Total connected load
approx. 4,00 kVA