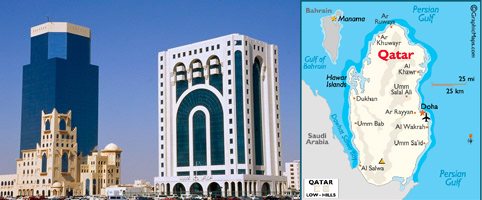 We are proud to announce the opening of our Representative Office Branch in this strategic location.
Qatar has the world's largest per capita production and proven reserves of both oil and natural gas. In 2010, Qatar had the world's highest GDP per capita, while the economy grew by 19.40%, the fastest in the world. The main drivers for this rapid growth are attributed to ongoing increases in production and exports of liquefied natural gas, oil, petrochemicals and related industries.
Qatar has the second-highest human development in the Arab World after the United Arab Emirates. In 2009, Qatar was the United States' fifth-largest export market in the Middle East,trailing behind the U.A.E., Israel, Saudi Arabia and Egypt. With a small citizen population of less than 300,000 people, Qatar relies heavily on foreign citizens, both for its protection and generating labour demand. Qatar has attracted an estimated $100 billion in investment, with approximately $60–70 billion coming from the U.S in the energy sector. It is estimated that Qatar will invest over $120 billion in the energy sector in the next ten years.