WEINIG POWERMAT 1500
The valuable moulder for optimum profitability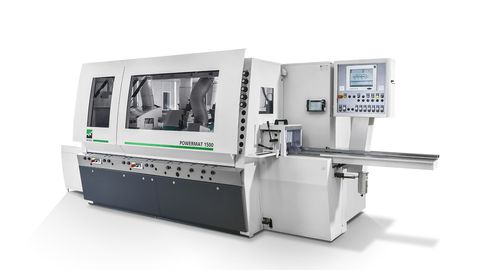 ---
Ultimate design, perfect processing down to the last detail, typical WEINIG: with the Powermat 1500 WEINIG offers an exceptional machine as a standard model. Behind every high performance machine there must be a design concept that puts you in a leading position to control costs, guaranty scheduled delivery times and cater to your customers' wishes. With the Powermat 1500 you will experience the full capability of a WEINIG moulder.
With this exceptional state of the art machine standard the Powermat 1500 offers outstanding ease of use and a maximum of profitability. Decades of experience have influenced the development of this machine. Supplemented by useful extras the Powermat 1500 can be perfectly adapted to your individual needs. The result: a machine coping even with challenging applications and delivering top quality. The scope of applications even goes beyond the processing of solid wood only.
The WEINIG Powermat series provides
High level of work safety
Modular design
Made in Germany
The WEINIG Powermat 1500 provides
Operating concept Comfort Set
The new operating concept Comfort Set comprises a great number of wrench-free adjustments for pressure and guiding elements which can be performed quickly, accurately and without error. With features like this the machine operator will experience a new degree of comfort in performing the moulder setup like he never experienced before. The final proof of the new setup procedure can also be seen in the quality of the products you produce.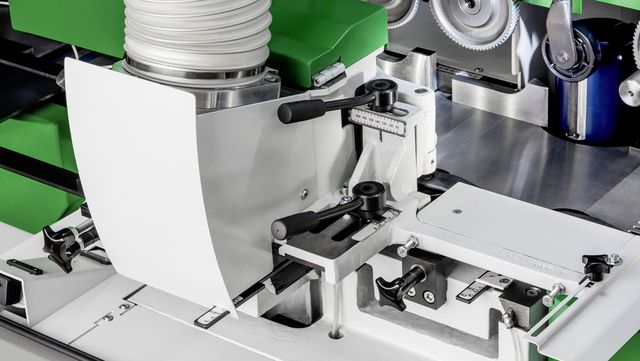 Workpiece monitoring
SmartTouch
In today's times, modern technologies make it possible to offer machine operators increased support. With SmartTouch WEINIG offers an innovative solution which in addition to the main control unit offers the display of setup information on a mobile tablet. In this manner the operator always has all relevant setup information in full view at the location where needed.
OPTIONS: 
PowerLock
At the point where the cutting edge meets the work piece for cutting is where surface quality is determined. Precision tools are therefore essential. However, even the best tool needs spindles with perfectly true running accuracy.
PowerCom PLUS
Extremely high performance yet surprisingly simple – that is PowerCom Plus, the top solution for management and work organization of your Powermat 1500.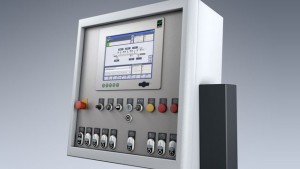 Pressure roller moving with the left spindle
Pressure elements and guides are responsible to guide the work piece smooth and safe through the machine. Therefore, they need to be setup properly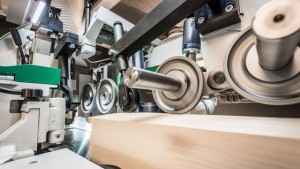 Variohood
Pressure elements and extraction hood can be adjusted very simply to suit the cutting circle of each tool. This guarantees a comfortable setup and sure guiding of the workpieces.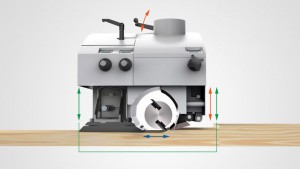 WEINIG System Plus
The WEINIG System Plus enhances your Powermat 1500 to become a highly efficient machining center that raises productivity. The individual system modules fit together like building blocks to produce the perfect result.