VEN BRUSH
WITH HOLD-DOWN BRUSHES AND SUPPORT BRUSHES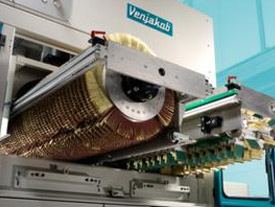 ---
Modular design for high flexibility
The VEN BRUSH system technology is based on high pressure at low speed. Special hold-down brushes with wide support brushes or narrow support brushes for processing profiled workpieces, ensure the required pressure.
For the pretreatment of workpieces of varying shapes or extremely fluctuating sizes, maximum perfection and flexibility are provided by the motor-driven height adjustment of each individual unit as well as by the infinite rotational speed setting.
The high-performance vacuum transport belt ensures reliable transport and holds both small as well as large format workpieces in place. A Molton roller is built in to ensure constant cleaning of the conveyor belt.
System solution shaped by individuality
Unit diversity results in a wide performance spectrum and generates a high economic effect. The basis version of VEN BRUSH allows a selection of 2 unit positions to up to 5 unit positions. To be prepared for possibly changing requirements in your production process, you can also select the next larger variant and equip the free unit position as required at a later date.
Further Details
---

Units
Depending on your production requirements, you can individually select from:
Large dimensioned round brush units with narrow and wide support brushes
Cross brush units
Structure and disk brush units (special machine version)
Short change times and high operating comfort are possible thanks to the quick-exchange brush system using a push-in system together with a coupling. The optional infinite angle setting of the round brushes permits impeccable edge processing.
The use of the structured brush unit is intended for special surface processing. This brush is used to structurise furniture parts, hardwood and softwood, flooring boards or to provide an antique look of up to 1 mm deep at a throughfeed speed of 10 m/min.
Dust removal system
Where required, the VEN BRUSH can be extended by a dust removal system with rotating blow nozzles and ionisation system. Following a brushing or sanding/grinding effect, this complementary function ensures optimum workpiece cleanliness to meet high requirements.
Control system / machine line
As an individual solution, VEN BRUSH convinces as a station in a Venjakob machine line or when integrated in an existing machine line. As such, control system configuration takes all interfaces into account, through to higher ranking control and monitoring. The high-performance system technology can be easily operated directly using a control panel or a touch panel.