VEN CLEAN
Dust-removal units and industrial part cleaning devices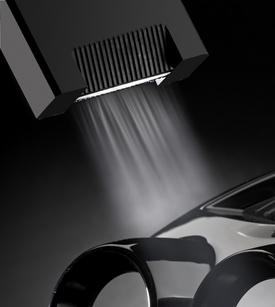 ---
From simple pre-treatment to industrial part cleaning including CO2 snow blasting and CO2 dry ice blasting
Venjakob provides innovative system technologies, which more than meet the ever growing requirements for quality and cleanliness of your products and provide a solid foundation for high-quality coating.
From stand-alone solutions to continuous machine lines, Venjakob can provide suitable solutions for your requirements. Please do not hesitate to contact us! We are looking forward to advising you and planning the ideal pre-treatment process adapted to your individual requirements!
DUST REMOVAL SYSTEM – IONISATION SYSTEM
Dust removal devices remove adhering dust particles from the workpieces by means of rotating blowing nozzles.
The use of ionisation units enables the removal of electro-static charges from the plastic surface, which promote the adhesion of dust. In order to improve operation, the ionisation unit is combined with a dust removal/blow-off device.
In the wood sector, this is generally integrated in the line without ionisation unit or installed directly downstream of a brush sanding/denibbing machine.
We offer various dust removal/ionisation systems, according to the requirements of your production process.
For the pre-treatment of plastic parts:
VEN CLEAN MINI
VEN CLEAN €CCO
For the pre-treatment of wooden workpieces:
VEN CLEAN SMART
VEN CLEAN COMFORT
VEN CLEAN PERFECT
The COMFORT and PERFECT versions are additionally equipped with a rotating genuine hair brush to remove soiling from the surface.
We would be please to provide more detailed information concerning the equipment features upon request.
SUITED FOR:
Wood
e.g. furniture, kitchens, moldings, windows, doors, floors, ship interiors
Plastic
e.g. automobile, HiFi, home appliance, cell phone, packaging
---