VEN DRY
VEN DRY UV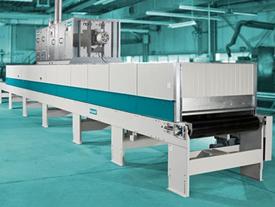 ---
DRYER FOR UV CURING PAINT SYSTEMS
UV curing paint systems are hardened within seconds by intensive UV radiation. These systems permit short production processes requiring little space. The number of required radiators depends on the throughfeed speed, the type of paint, the quantities applied and the workpiece geometry.
Performance optimised UV lamps are used in the VEN DRY UV dryer. These feature emission spectra perfectly matched to the individual paint/lacquer. Mature transformer technology in combination with high-performance UV lamps ensure safe and reliable operation.
Fields of application:
Furniture industry, surface finishing
UV coating materials
Equally suitable for workpieces made of wood, plastic and metal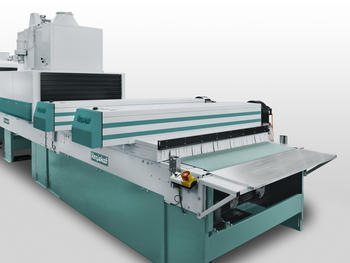 The new generation of dryers with "SURROUND-UV" technology offers the following advantages:
Efficient use of energy through optimised high-reflection radiators
Throughfeed curing of surfaces and all edges due to a newly developed reflector
Frequently 1 radiator is sufficient for clear lacquers, colour paints require 2 radiators
More than 20 % additional energy saving compared to the predecessor model
Notably reduced IR portion ("cold light") for sensitive materials
Long operating life of the lamps
Temperaturgeregelte Abluft reduziert Ihre Betriebskosten weiter
No damage resulting from a transport stop thanks to improved shutter systems
Quickly convertible for other workpieces, materials and/or lamps
Variable, modular system
Further advantages of the VEN DRY UV with SURROUND-UV technology:
Efficiency control of the UV lamps to ensure stable operating parameters
The infinite setting range from 50…120 W/cm permits highly accurate operation and UV lamp readjustment
Mains fluctuations of up to 10 % are balanced
Simple and easy operation
Easy accessibility for maintenance and lamp change
SUITED FOR:
Wood
e.g. furniture, kitchens, moldings, windows, doors, floors, ship interiors
Metal
e.g. steel pipes, steel plates, steel girders, seals, rims
Panel
e.g. automobile, solar, window
Plastic
e.g. automobile, HiFi, home appliance, cell phone, packaging
Special solutions
e.g. fiber cement board, roofing tile, leather, composite materials
VEN DRY AIR
---
DRYER WITH HIGH AIR SPEED FOR INTENSIVE DRYING
In this system, high air speed is used for intensive drying. A modular construction enable different dryer lengths, depending on the application.
Temperature, air speed as well as supply and exhaust air can be manually set at the dryer. A frequency controlled version is available upon request. Flow meters monitor the exhaust air values and thus the correct function of the drying process.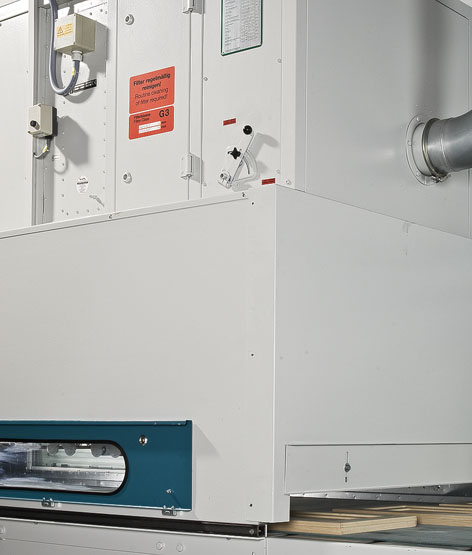 SUITED FOR:
Panel
e.g. automobile, solar, window
Wood
e.g. furniture, kitchens, moldings, windows, doors, floors, ship interiors
Metal
e.g. steel pipes, steel plates, steel girders, seals, rims
Plastic
e.g. automobile, HiFi, home appliance, cell phone, packaging