VEN SPRAY
Ven Spray SMART- SMALL BUT VERY EFFECTIVE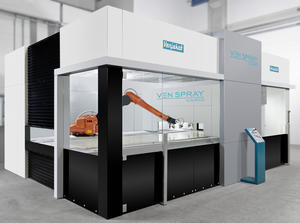 ---
This "stand-alone solution" is designed to meet flexible production requirements and can be used for solvent and water based paints. This spray coating machine is both economical and environmentally friendly.
It can optionally be equipped with a belt cleaning system and/or a paper transport belt.This makes it possible to alternate between both modes of operation. A quick change between two paint systems (water/solvent based) is simple and fast. This makes it especially attractive for smaller companies to replace manual painting.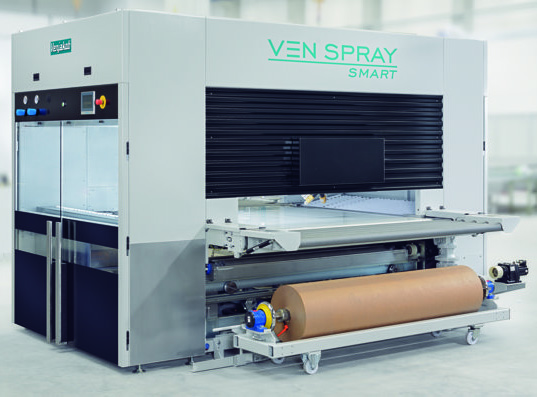 Unique: Belt cleaning system and/or paper belt conveyor system save material and reduce the cleaning effort
The machine is immediately operational (low installation time), operator friendly and low maintenance
Paint recovery device is economical and environmentally friendly
One or two paint supply circuits
Easy to maintain dry filter extraction system
Filtered supply air
Air supply ventilator with filter
Infinitely variable throughfeed speed
Switch cabinet with Beckhoff Industrial-PC and touch display
Modular expandable (dust removal unit, dryer…)
Process reliability
Reproducible results
Low floor space required
Small quantity paint supply container optional available
Working width:               1,300 mm,
Working height:              920-960 mm,
Machine dimension:      1,900 mm (length)
Feed speed:                      2-4 m /min.
Exhaust air volume:       7,000 m³/h,
Supply voltage:                9.6 kW/ 12 A,
SUITED FOR:
Wood
e.g. furniture, kitchens, moldings, windows, doors, floors, ship interiors
Metal
e.g. steel pipes, steel plates, steel girders, seals, rims
Panel
e.g. automobile, solar, window
Special solutions
e.g. fiber cement board, roofing tile, leather, composite materials
VEN SPRAY COMFORT- SPRAY COATING MACHINE FOR FLEXIBEL SERIAL PRODUCTION
---
This machine has a twin cleaning unit, therefore it can be used for a dual application of water and solvent based paint systems.
Economical & environmentally friendly: paint recovery
Paint recovery by patented V-belt-system
High plant availability with very low cleaning effort
Automatic quick paint change system
Special flexibility with up to 4 paint supply circuits
Process reliability & Investment security
Reproducible results guarantee process reliability.
The modular construction enables future expansion of the machine line and thereby ensures your investment for the future.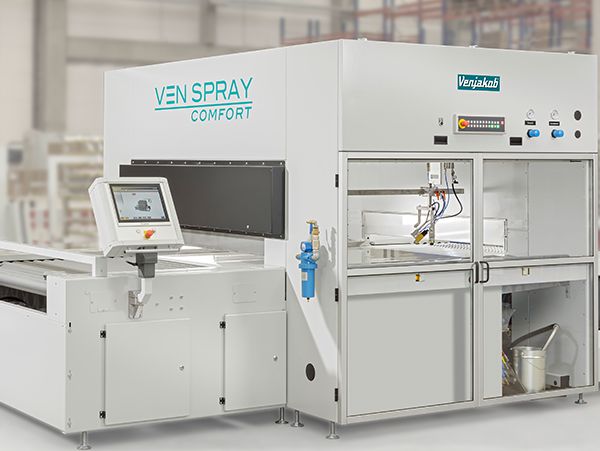 The twin cleaning units of this flexible system technology enable a dual application for water and solvent based paint systems. The targeted paint-recovery by means of the patented V-belt system offers a maximum of profitability and environmental friendliness.
Further machine features:
Dry filter or wet extraction system
Gun drive with high performance linear axis (dust encapsulated)
Quick gun change system
Throughfeed speed infinitely adjustable
Adjustable air ratio by variable supply air fans
Large touch-panel with visualized operating interface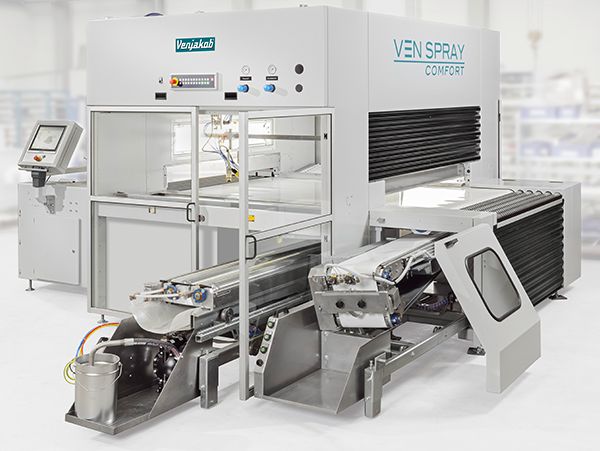 Working width:      1,300 mm
Working height:     920-960 mm
Feeding speed:       3-8 m/min.
Exhaust air volume: 7,000 – 10,000 m³/h
Connect value:       20 KW
Machine dimensions: 5,100 x 3,440 x 2,850 mm (L/M/H)
SUITED FOR:
Wood
e.g. furniture, kitchens, moldings, windows, doors, floors, ship interiors
Metal
e.g. steel pipes, steel plates, steel girders, seals, rims
Panel
e.g. automobile, solar, window
Special solutions
e.g. fiber cement board, roofing tile, leather, composite materials