HOLZ-HER SPRINT 1327/1329
The Future of Edgebanding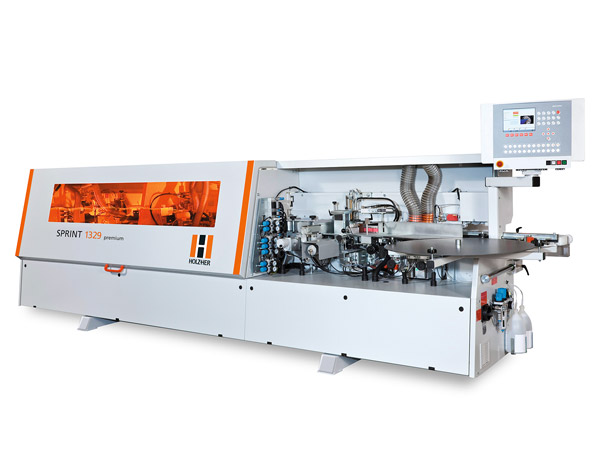 ---
Designed for highest requirements in terms of quality and flexibility. Various compact models are available for complete processing of state-of-the-art edging and panel material. Program selection allows the machine to be set up without even opening the hood, so that it is ready for production immediately. The HOLZ-HER SPRINT series set the highest, professional standards for edgebanding without compromises.
 Maximum precision and processing reliability for many years with torsionally stiff, welded machine columns.
 Ergonomic operation with rotating and pivoting control panel. Comprehensive program memory with complete storage of all operating data as well as service messages in clear text.
 Fully automatic control of processing machines at the touch of a button using NC servo-axes.
 All five SPRINT models are equipped with our Glu Jet system as a standard feature for razor-thin glue joints, fully equal to any industrial laser edging
Simple Handling – High Productivity
Long, motor-driven run-in linear guide
For optimum feed of long workpieces. Joint thickness can be adjusted automatically at the touch of a button on the motor-driven run-in linear guide (optional) (Fig. 1).
6-fold edge feeder
New with sensor for recognition of remaining length and automatic change-over to alternative edging channel. Including auxiliary shaft for feeding in cut-length edging (optional) (Fig. 2).
Radius scraper
Motor-adjustable scraper with two NC servo-axes for optimum adaptation to existing edge tolerances (optional) (Fig. 3).
Nesting package
For concealed hinge holes or trapezoidal work (optional) (Fig. 4).
Transport chain lubrication
Intelligent automatic transport chain lubrication. Sensor-controlled unit, for metering lubrication to match load (optional).

Glu Jet – Zero Joint with Thin Film Technology
The clear advantages of our hybrid technology in combination with the new HOLZ-HER thin film technique make this gluing system the all-rounder for craftsmen and industrial users. Visual zero joints with PUR glue – allowing use in wet areas – are natural for HOLZ-HER customers.
Ultra-thin glue joints, easily equivalent to industrial laser edges, are easy to achieve with the HOLZ-HER Glu Jet system, which also offers unrivaled flexibility.
From state-of-the-art, high gloss edging right up to thick edging cross sections in the solid wood range, HOLZ-HER remains unequaled in terms of appearance, regardless of the material. HOLZ-HER sets tomorrow's trends today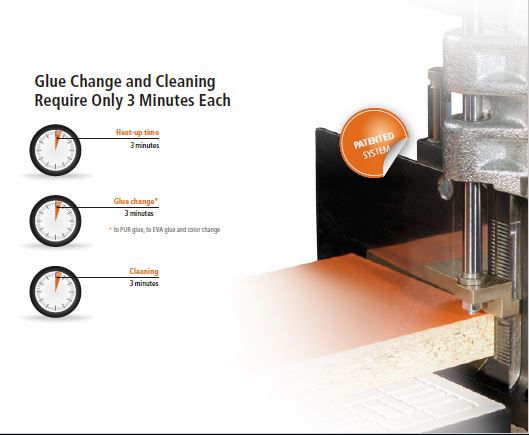 PUR Glue is the Standard for Professional Cabinet Makers
Industrial technology for every shop – with the Glu Jet System you can process PUR glue on a standard basis; just as simply as EVA glue. Strong arguments for you and your customers:
No additional glue basin.
No expensive nitrogen tanks.
High strength joint for extremely long service life.
Resistant to heat and water, providing quality advantages in all areas of cabinetmaking.