HOLZ-HER STREAMER 1053/1054/1057 XL
Your Compact Start with HOLZ-HER Edging Technology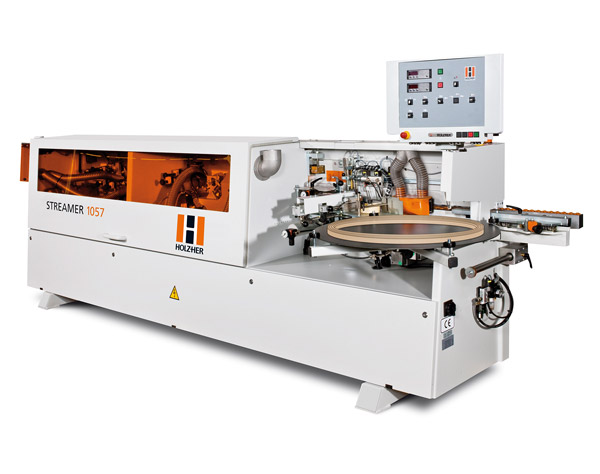 ---
High-tech with minimum space requirements and convincing
performance spectrum for high quality edging work.
This is the basic idea behind the entire STREAMER series.
Processing dimensions to match large machines
Compact, simple and high performance: edging thickness up to 6 mm and workpiece thickness up to 60 mm.
Premilling cutter for perfect results
Including two diamond tipped cutters for perfect, singlepass processing of your panels before edgebanding.
Efficiency and high performance
Compact control for simple operation.
Perfect finish
With two, freely selectable post-processing units (scraper, glue scraper, buffing unit).With three finishing units on the 1057 XL.
Always a secure joint
Highly flexible glue application with HOLZ-HER's Glu Jet S nozzle system. Optionally with Glu Jet with thin film technology.
Waterproof connections
You can process PUR glue just as easily as EVA glue.
Multi-function cutter unit
Including diamond tipped tool.
Glu Jet – Zero Joint with Thin Film Technology
The clear advantages of our hybrid technology in combination with the new HOLZ-HER thin film technique make this gluing system the all-rounder for craftsmen and industrial users. Visual zero joints with PUR glue – allowing use in wet areas – are natural for HOLZ-HER customers.
Ultra-thin glue joints, easily equivalent to industrial laser edges, are easy to achieve with the HOLZ-HER Glu Jet system, which also offers unrivaled flexibility.
Glu Jet S –for perfect Joints
Edgebanders are decisive for furniture with a high quality appearance. You can also profit from 50 years of  HOLZ- HER technological leadership in edgebanding.
Change over from colored to neutral glue at the flick of the wrist.
Single cartridges or cartridge hopper (Figs. 1 and 2) – allow glue changeover in minutes.
Changeover from EVA to PUR glue is also possible within the shortest time.
And the entire system can also be completely cleaned in just minute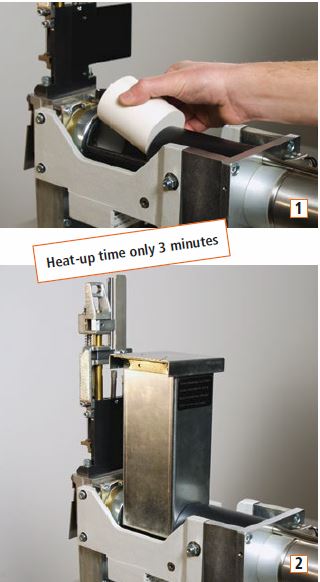 Perfect Edgebanding
STREAMER units offer a convincing range of performance. From premilling cutter to edging agazine, unequaled HOLZ-HER glue application system, trimming and cutting units all the way to the custom equipment in the post-machining area, numerous high performance modules are available for perfect edgebanding.
Corner Rounding on the STREAMER 1057 | 1057 XL
Corner rounding unit for processing corners with edging thicknesses up to 3 mm. Tools for radiuses up to 3 mm and chamfers up to 45 degrees – postformed profiles possible.
Diamond tipped tool for long service life.
Integrated chip collectionin tool.
Working heightof 60 mm.
Model Options: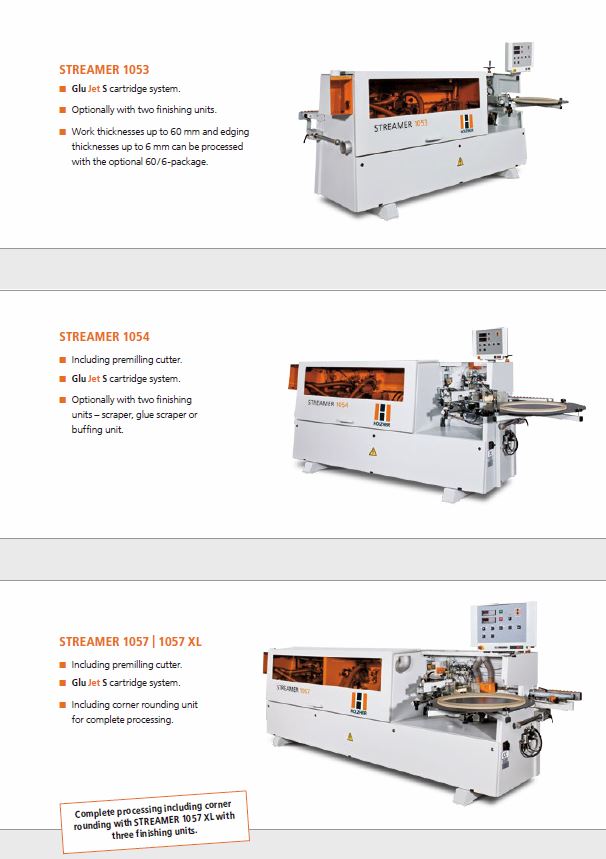 GLU JET – Zero Joint with PUR (Metric) from HOLZ-HER GmbH on Vimeo.