HOLZ-HER ACCURA 1554/1556/1558
Accurancy in every detail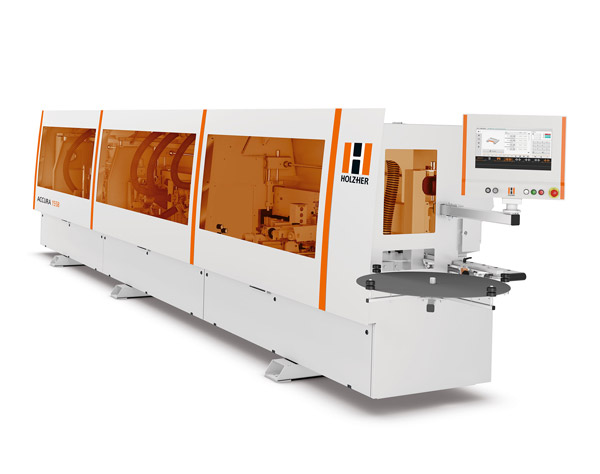 ---
Designed for highest requirements in terms of quality and flexibility. The ACCURA series stands for complete processing of modern edging and panel materials. Program selection allows the machine to be set up without even opening the hood, so that it is ready for production immediately. The HOLZ-HER ACCURA series sets the highest, professional standards for edgebanding without compromises.
Maximum precision and processing reliability for many years with torsionally stiff, welding machine columns.
Ergonomic operation with rotating and pivoting 18.5″ touch screen control panel. Comprehensive program memory with complete storage of all operating data as well as service messages in clear text.
Fully automatic control of machining units at the touch of a button using NC servo-axes without opening the hood.
Glu Jet XL – Edgebanding at the highest Level 
Glue Application System for PUR
For the ACCURA series HOLZ-HER offers the Glu Jet XL with greater melting capacity for even higher feed rates.
With the Glu Jet XL, users can process 2 kg PUR glue cartridges (Fig. 3, below), which are significantly more economical than conventional PUR granules.
This investment is clearly worthwhile beginning at consumption rates of approx. 400 kg of PUR glue per year, or approx. 2 kg per day. The savings for glue costs alone already amortize the machine during the second year
The Glu Jet XL is unbeatable with a heat-up time of 3 minutes, while combining all advantages of our thin film technology.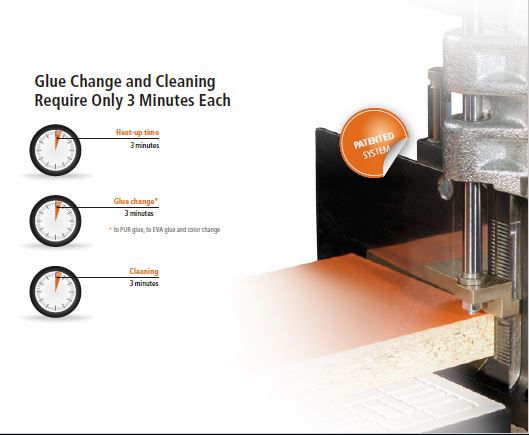 PUR Glue is the Standard for Professional Cabinet Makers
Industrial technology for small shops – with the HOLZ-HER Glu Jet system, you can process PUR glue on a standard basis; just as simply as EVA glue. Strong arguments for you and
your customers:
No glue pots.
No expensive nitrogen tanks.
High strength joint for extremely long service life.
Resistant to heat and water, providing quality advantages in all areas of cabinetmaking.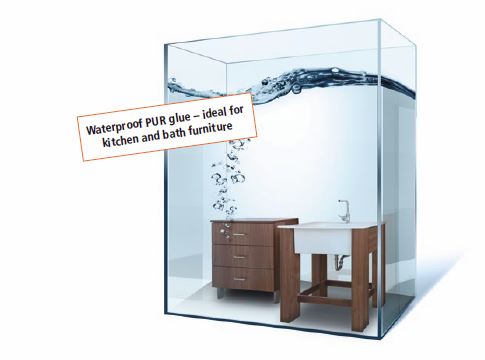 Even More Flexibility with Double Gluing Station
The generous entrance area on the ACCURA allows a second Glu Jet for a double gluing station in addition to the classic Glu Jet station. This allows realization of applications possible only with high set-up times until today. PUR and EVA glue can be selected on the touch screen. While one gluing station is working, the other is automatically retracted and can then be put back into operation at the touch of a button.
The highly popular combination of neutral and colored glue is also possible. Finally, special nozzles for use on thick solid wood edges can be combined with thin film nozzles for a zero joint appearance. These are also ready for use after a heat-up time of only 3 minutes.
Perfect flexibility saves time:
EVA and PUR glue continuously available for change-over.
Neutral and/or colored glue continuously available for change-over.
2 kg PUR glue (Glu Jet XL) and Glu Jet.
Glu Jet with thin film technology combined with solid wood nozzle for edge cross sections of 20 x 65 mm.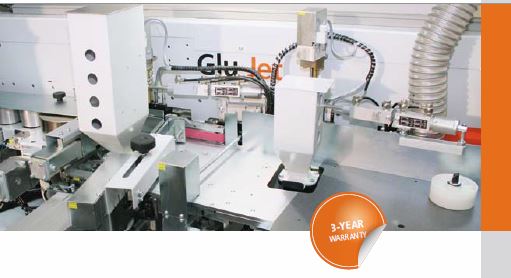 HOLZ-HER ACCURA – 100 procent repeatable accuracy and multifunctional from HOLZ-HER GmbH on Vimeo.
GLU JET – Zero Joint with PUR (Metric) from HOLZ-HER GmbH on Vimeo.