MARTIN T60C
T60C Sliding-table saw - we are very pleased to present a new machine to you
---
With the new T60C saw, we want to respond to the increasing demand for well-equipped mid-range machinery. You can get this machine, which is based on the T60A frame, at a surprisingly favorable price. It is equipped with a 3.5" keypad controller at eye level, a powerful 7.5 HP motor with three rotational speed options, 1350 mm rip capacity as well as MARTIN's exclusive hand-wheel adjustment of the rip fence. The T60C Automatic includes a motorized adjustment of the rip fence in lieu of hand-wheel version.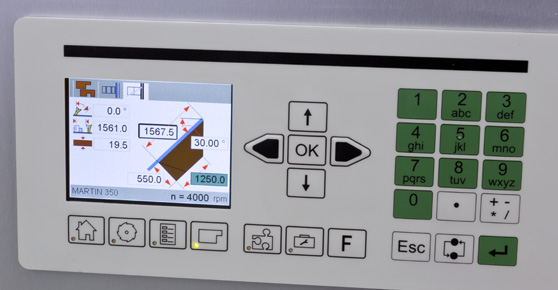 All features in a view
3.5" TFT colour screen at eye level included
Electronically controlled cutting height and angle included
Hand wheel adjustment for rip fence included
(Motorised adjustment of rip fence included T60C Automatic)
Digital indication of the cutting width integrated in the control
Fine adjustment of the rip fence included
Cutting width 1350 mm included
Sliding table length 3000 mm included
Max. cutting height 130 mm included
Fine adjustment on both cross-cut stop elements included
Individual configuration with a wide range of accessories
Like all the important mechanical components of the MARTIN saw line, the T60C's sliding table, cross-cut fence and rip fence provide maximum precision and long life. The sliding table is designed like you would expect a MARTIN machine should be: with a replaceable table lip and durable, highlyribbed, hollow chambered aluminum profile. Other key features include the smooth movement of the two stop elements along the cross-cut fence rail; both of which
With the T60C system, the scoring position and scoring height can be adjusted quickly and easily via controller. As is the case with conventional systems, the scoring width is adjusted with shims. Lifting and lowering the unit is done pneumatically. Depending on the task at hand the unit can be switched on and off without losing precious time and the settings can be stored.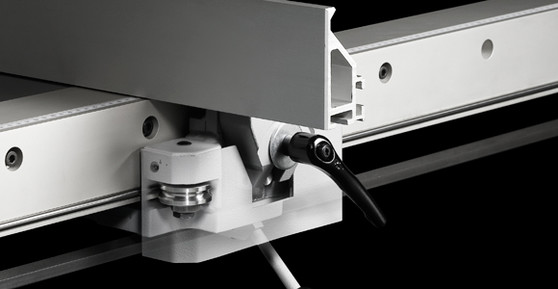 On the T60C the rip fence is adjusted manually to a digital read-out. Standard features include a precise fine adjustment and mounting rack for the fence when the fence is removed from the table. The fence's sophisticated guide system with four grooved ball bearings ensures long-term reliability.
DOWNLOAD BROCHURE
---
Please enter your details below to download the brochure