COLUMBUS COMBIMAT
COMBIMAT – THE MULTITASKING THERMOPRESS-CENTRE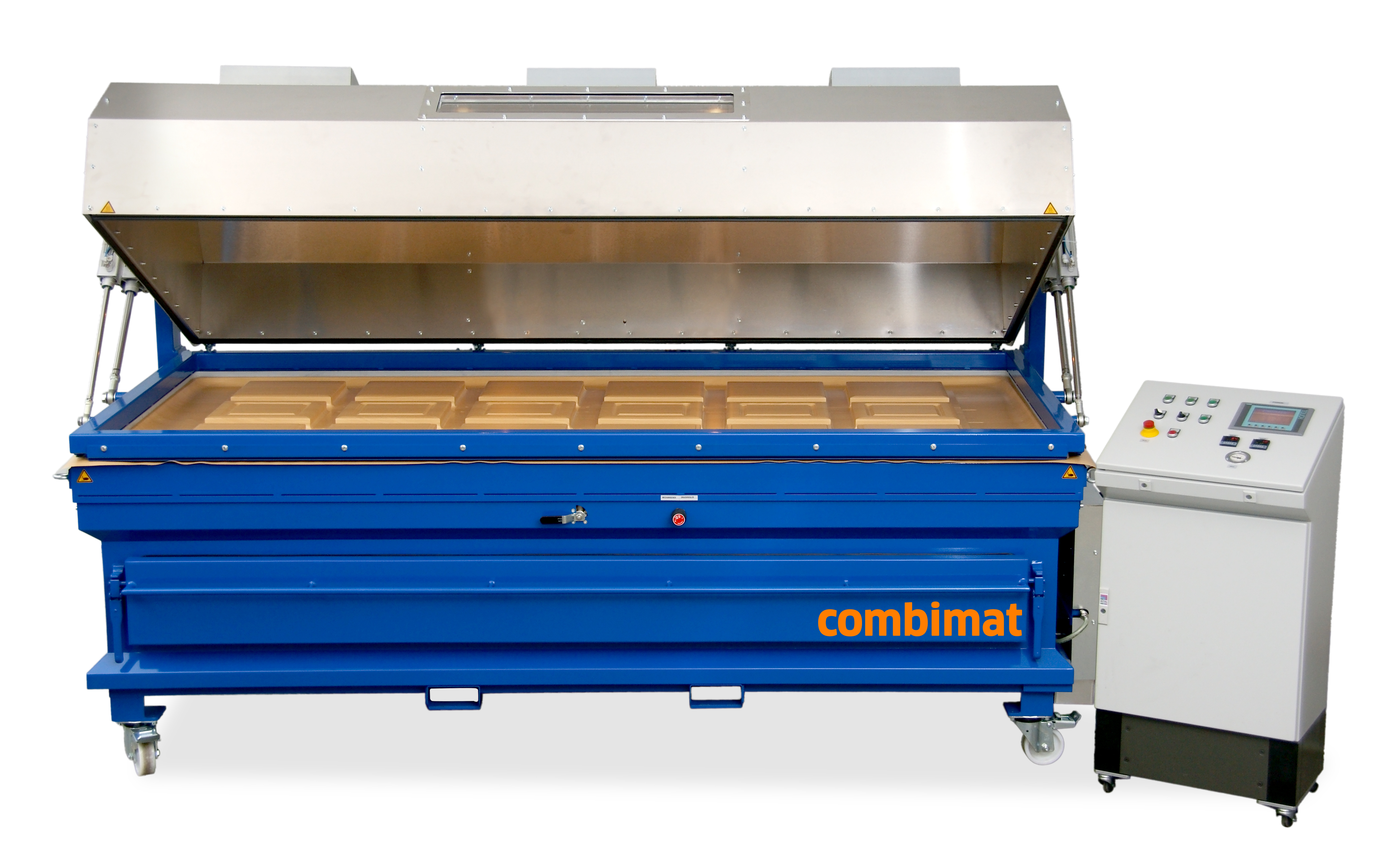 ---
AREA OF APPLICATION:
heating and forming of all thermoforming materials
laminating and veneering
3D-foil laminating
Laminated Bending

Laminating and veneering of any form and shape with wood and board materials such as: bendy plywood, plywood, thick sawn veneer, MDF, etc.

Flat Pressing & Bonding

Flat pressing, veneering and bonding of various materials such as: wooden board materials, recycled wood, composite materials, honeycomb boards, glass, etc.

Heating & Forming

Preheating and forming of thermoplastic materials such as: Plastics (ABS, PMMA, PET-G, PVC, etc.) and Solid Surface Materials (Corian, HI-MACS, Samsung, Kerrock, etc.).

Hot Forming

Vacuum hot forming and shaping of Plastics and Solid Surface Materials such as: Plexiglas, Perspex, Lucite, Staron, Avonite, Hanex, Krion, etc.

3D-Foil Laminating

3D-foil laminating of PVC and TPO furniture and interior foils from all renowned manufacturers such as: Renolit , Hornschuch, Riken, Gislaved, Kloeckner Pentaplast, Alfatherm, etc.
COMBIMAT is a compact built, space-saving THREE in ONE machining centre.
The combination of a heating unit, a forming unit plus a foil laminating unit enables you to perform all of these processes. Manufacturing a single item or a batch production.
COMBIMAT comes with a SIMATIC PANEL and is easy to operate. The heating unit and heating hood are equipped with industrial hot air convection heating. This generates a very gentle and unproblematic heating up procedure of all thermoforming materials.
COMBIMAT – the high-performing 3D–foil laminating machine
With the fully automated foil laminating process and the industrial heating hood there are no limits to foil laminating. For fast and efficient foil laminating of: kitchen and bathroom furniture, exclusive interiors, contract furniture, shaped components, custom made furniture, etc.
No problems with suppliers of foil laminated components (long delivery time, quality, transport costs). The fully automated foil laminating process enables short cycle times and therefore a cost effective production starting with one work piece.
The sturdy industrial design and the reasonable purchasing costs of the machine ensure a fast amortisation with a long service life.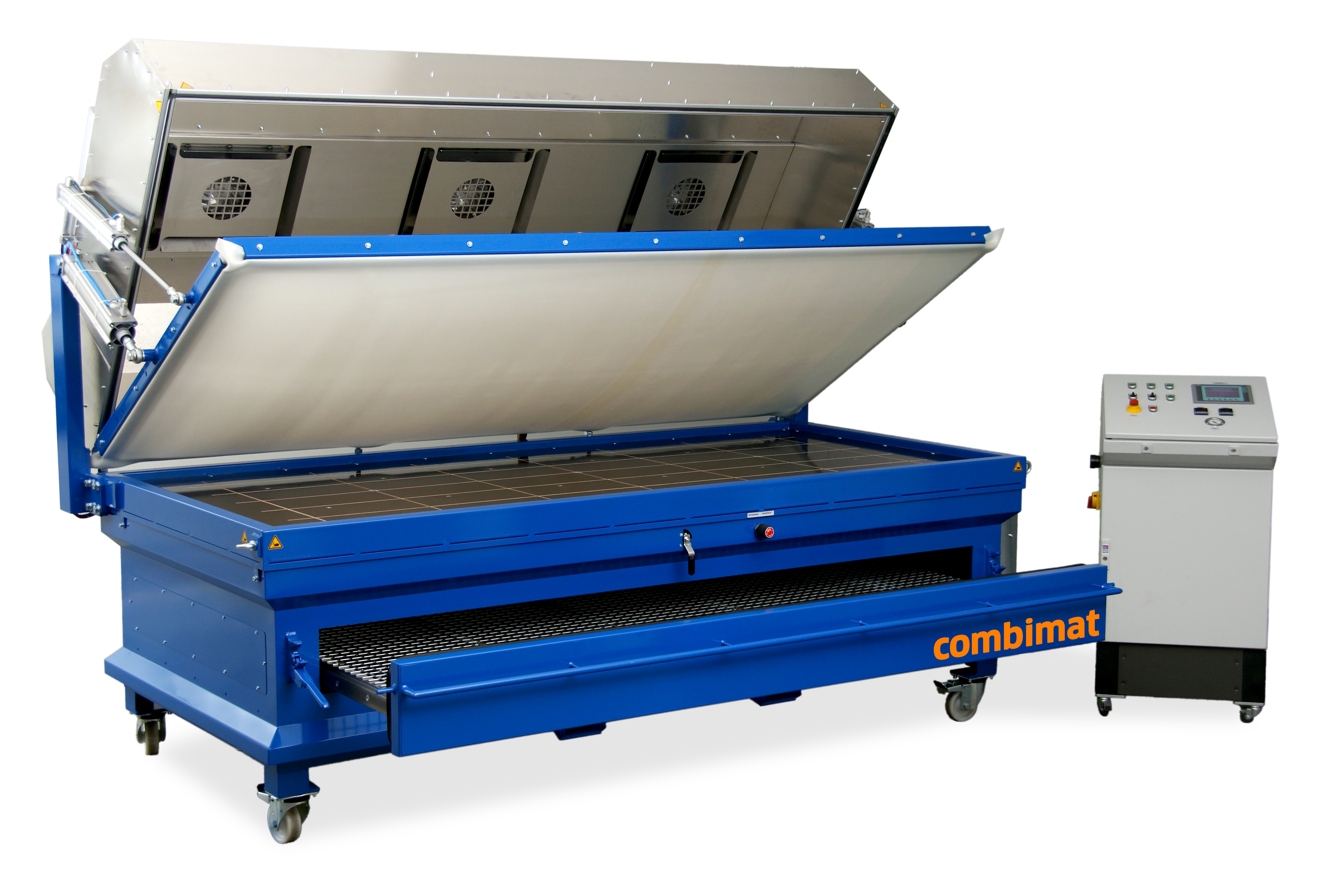 TECHNICAL DETAILS
---
Vacuum Press – Forming Unit (for 3D-foil lamination, form-veneering)
movable table with swivel-mounted heating cover and foil – fixation sealing – frame
high performance rotary vane pump VT 4.40, nominal displacement: 40 m³/h, vacuum pressure to max. 900 hPa (9 t/m²)
foil-fixation sealing-frame mounted on a pneumatic swivel
including highly elastic silicone membrane (transparent)
industrial luminum heating hood, entire surface insulated, variable adjustment 0 °C to 160 °C
The entire unit is maintenance-free, the vacuum pump requires regular servicing
electrical connection (incl. heating cover): 13,5 kW, 400 V, 50/60 Hz, with 3 air circulation fans
including pneumatic swivel system for opening / closing the membranframe and the heating cover
including automatic process control unit
Overall dimensions: ca. 3500 x 1600 mm
size inside frame: ca. 2920 x 1320 mm
Heating oven (for all thermoforming materials)
size drawer: ca. 2600 x 1200 mm
material thickness: 0 – 70 mm
heating power: 9 kW, 400 V, 50/60 Hz, with 2 air circulation fans (overheating protection)
variable temperature setting +230 °C
electronic temperature control
pull-out working surface, pattern 30 x 30 mm
exact temperature distribution to the entire heating surface through Columbus CHS unique hot air heating system
energy saving through low power input and tight closing lid