COLUMBUS COMBITHERM
COMBITHERM – THE MULTIPURPOSE HEATING AND FORMING UNIT FOR ALL THERMOFORMING MATERIALS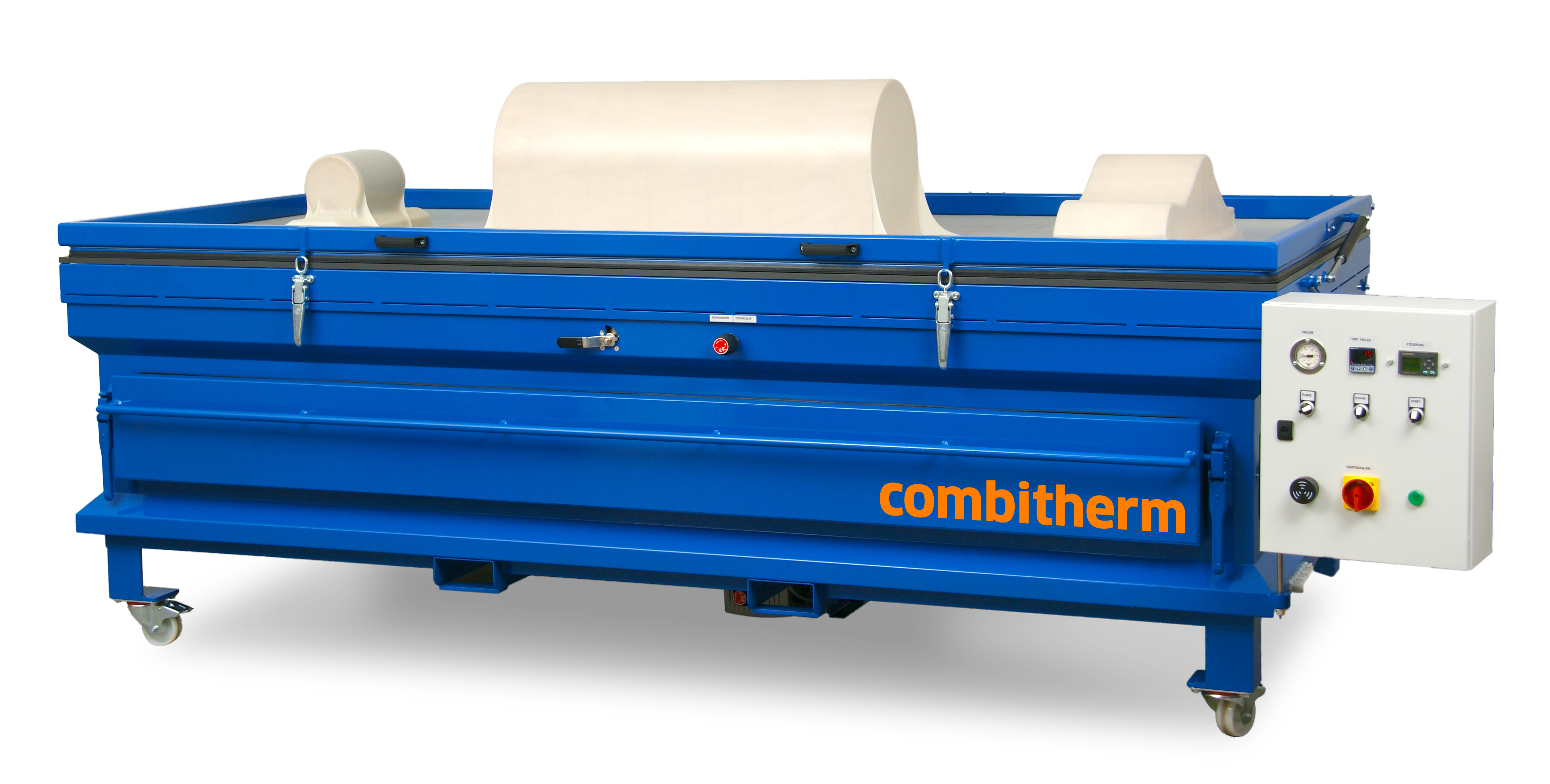 ---
COMBITHERM is a compact built, space-saving, combined thermo heating and forming unit. The combination of a thermo heating oven with a vacuum press enables you to heat up various thermoforming materials fast to their optimal forming temperature and then form them with vacuum in one machine.
COMBITHERM is ideal for heating and forming solid surface materials such as: HI-MACS, AVONITE, CORIAN, STARON, VARICOR, GETACORE, WILSONART, PLEXICOR, MARLAN, KERROCK, etc.
COMBITHERM is ideal for heating and forming all other thermoforming materials such as: ABS, PC (Makrolon), PMMA (Plexiglas), PET-G (Vivak), PS, PP, PVC, etc.
COMBITHERM is of course a vacuum press for: veneering, coating, laminating and pressing
COMBITHERM is easy to use. The innovative circulating hot air system heats thermoforming materials in various thicknesses and qualities evenly. This generates a very gentle and unproblematic heating up procedure. The vacuum press operates with the sophisticated technology designed by Columbus!
Laminated Bending

Laminating and veneering of any form and shape with wood and board materials such as: bendy plywood, plywood, thick sawn veneer, MDF, etc.

Flat Pressing & Bonding

Flat pressing, veneering and bonding of various materials such as: wooden board materials, recycled wood, composite materials, honeycomb boards, glass, etc.

Heating & Forming

Preheating and forming of thermoplastic materials such as: Plastics (ABS, PMMA, PET-G, PVC, etc.) and Solid Surface Materials (Corian, HI-MACS, Samsung, Kerrock, etc.).

Hot Forming

Vacuum hot forming and shaping of Plastics and Solid Surface Materials such as: Plexiglas, Perspex, Lucite, Staron, Avonite, Hanex, Krion, etc.
Thermoforming for new profitable markets
COMBITHERM is a space-saving two in one machine for heating and forming of materials economically.
This creates possibilities to work with new materials to design new forms and shapes; to realise your own ideas and to satisfy the demands of your customers.
A cost effective way to enter a lucrative market without a lot of additional expenses.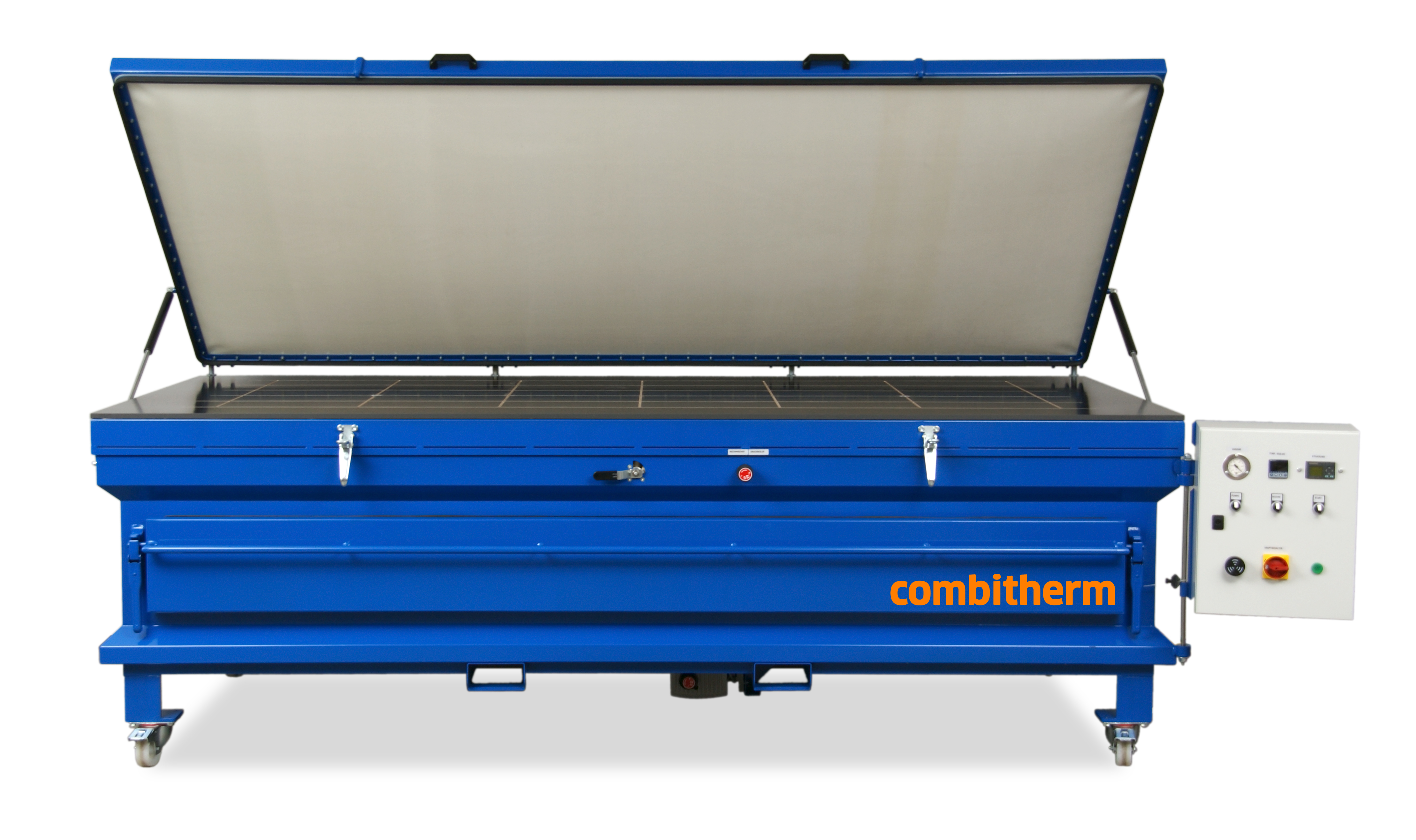 TECHNICAL DETAILS
---
Vacuum Membrane:
construction: vacuum-sealed inside the membrane frame
material: highly elastic, robust, and durable silicon membrane
manual stress: 18 N/mm², 700 % elongation at break point, highly wear-resistant
thermal stress: – 40 °C to maximal + 220 °C
Production capacity:
heating and Forming: according to the manufacturer's instructions of the material
vacuum layer-gluing: 10 min. to 4 h, depending on shape of the work piece and material/glue used
vacuum form-veneering: between 10 and 30 min., depending on shape and type of glue used
EQUIPMENT
Heating oven
size drawer: ca. 2600 x 1200 mm
material thickness: 0 – 70 mm
heating power: 9 KW, 400 V, 50/60 Hz
pull-out operation of the working surface, pattern 30 x 30 mm
variable temperature setting +230 °C
eletronic temperature control
exact temperature distribution to the entire heating surface through Columbus CHS unique hot air heating system
overheating protection
energy saving through low power input and tight closing lid
Forming station
size inside frame: ca. 2920 x 1320 mm
rotary vane vacuum pump VT 4.25, vacuum pressure to max. 9 t/m², nominal displacement: 25 m³/h
siliconmembran (max. +220 °C)
optimal pressing with a pressure of 9 t/m² also on large scale work pieces
evenly applied pressure on all sides of the work piece
simple and reliable opening / closing mechanism
vacuum pressure regulator (variable pressure setting)
Overall dimensions: ca. 3600 x 1600 x 1200  mm