COLUMBUS PERFORMER
PERFORMER SOLVES ALL FORMING AND PRESSING TASKS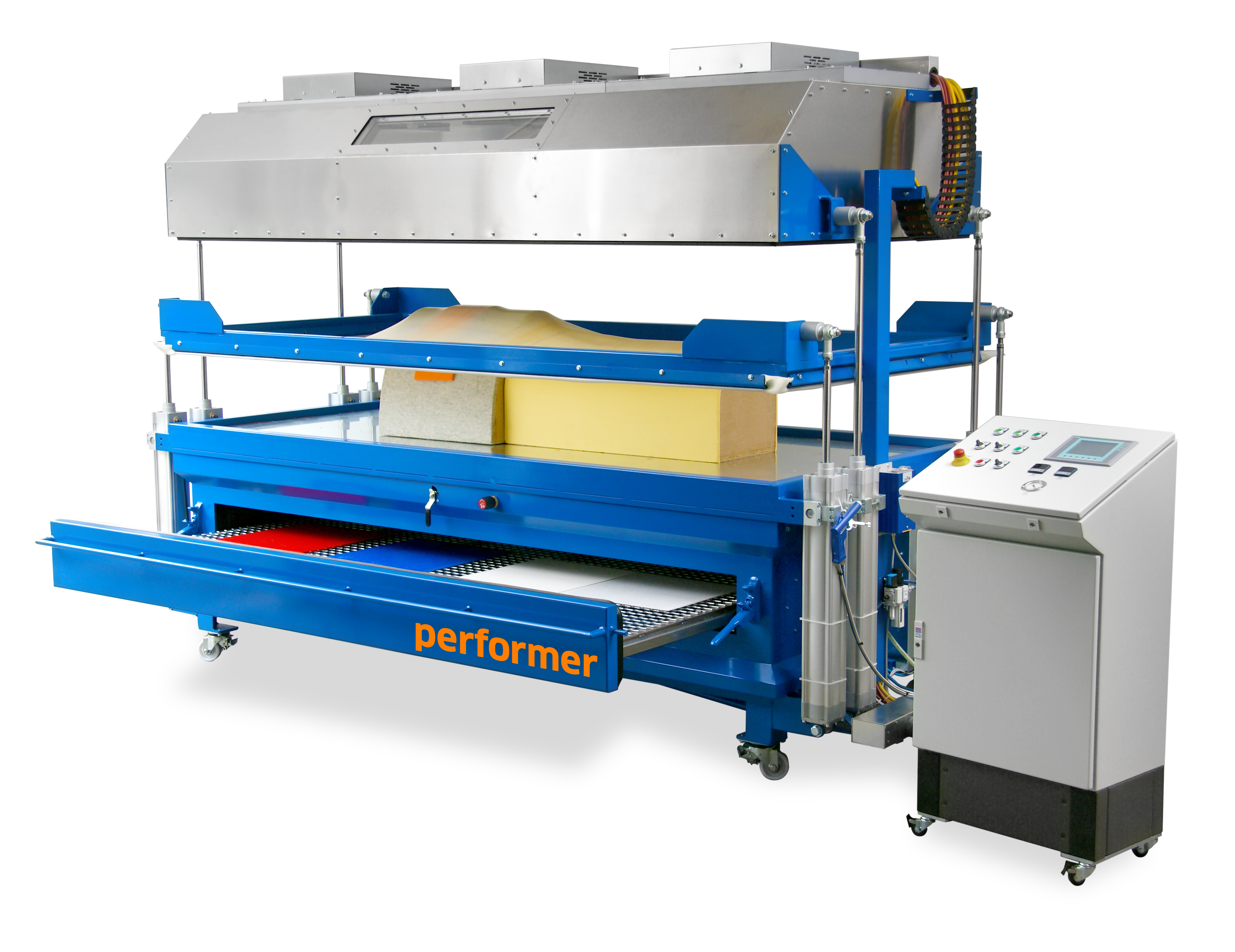 ---

Laminated Bending

Laminating and veneering of any form and shape with wood and board materials such as: bendy plywood, plywood, thick sawn veneer, MDF, etc.

Flat Pressing & Bonding

Flat pressing, veneering and bonding of various materials such as: wooden board materials, recycled wood, composite materials, honeycomb boards, glass, etc.

Heating & Forming

Preheating and forming of thermoplastic materials such as: Plastics (ABS, PMMA, PET-G, PVC, etc.) and Solid Surface Materials (Corian, HI-MACS, Samsung, Kerrock, etc.).

Hot Forming

Vacuum hot forming and shaping of Plastics and Solid Surface Materials such as: Plexiglas, Perspex, Lucite, Staron, Avonite, Hanex, Krion, etc.

3D-Foil Laminating

3D-foil laminating of PVC and TPO furniture and interior foils from all renowned manufacturers such as: Renolit , Hornschuch, Riken, Gislaved, Kloeckner Pentaplast, Alfatherm, etc.

3-D Thermoforming

3D-Thermoforming of plastics such as ABS, PMMA (Plexiglas, Perspex, Lucite), PET-G (Vivak), PS, PP, PVC-U, PC (Makrolon), etc. and 3D foil/film laminating
3D thermoforming of all plastics
3D foil laminating of standard and high gloss foils
heating and forming of solid surface materials and plastics
precise vacuum pressing
Performer is the outstanding result of our continuous machine development. It is an ingenious thermoforming machine including all the functions of a thermopress-centre.
With the adjustable deep drawing frame and the powerful CHS-heating hood your 3D forming and pressing dreams come through! From producing prototypes up to high end products in a batch production – everything is possible!
The Performer comes with a Simatic Touch Panel which bundles all operating processes in one unit. The screen is neatly arranged and self-explaining.
Our established and well-engineered CHS-heating system is installed in the heating hood and the heating drawer. This generates an exceptional heating power combined with the assurance of a perfect heating process. The vertical moving, oil-free and reliable pneumatic cylinders are lifting the pressing results to a new level.
This machine with all its applications will inspire you.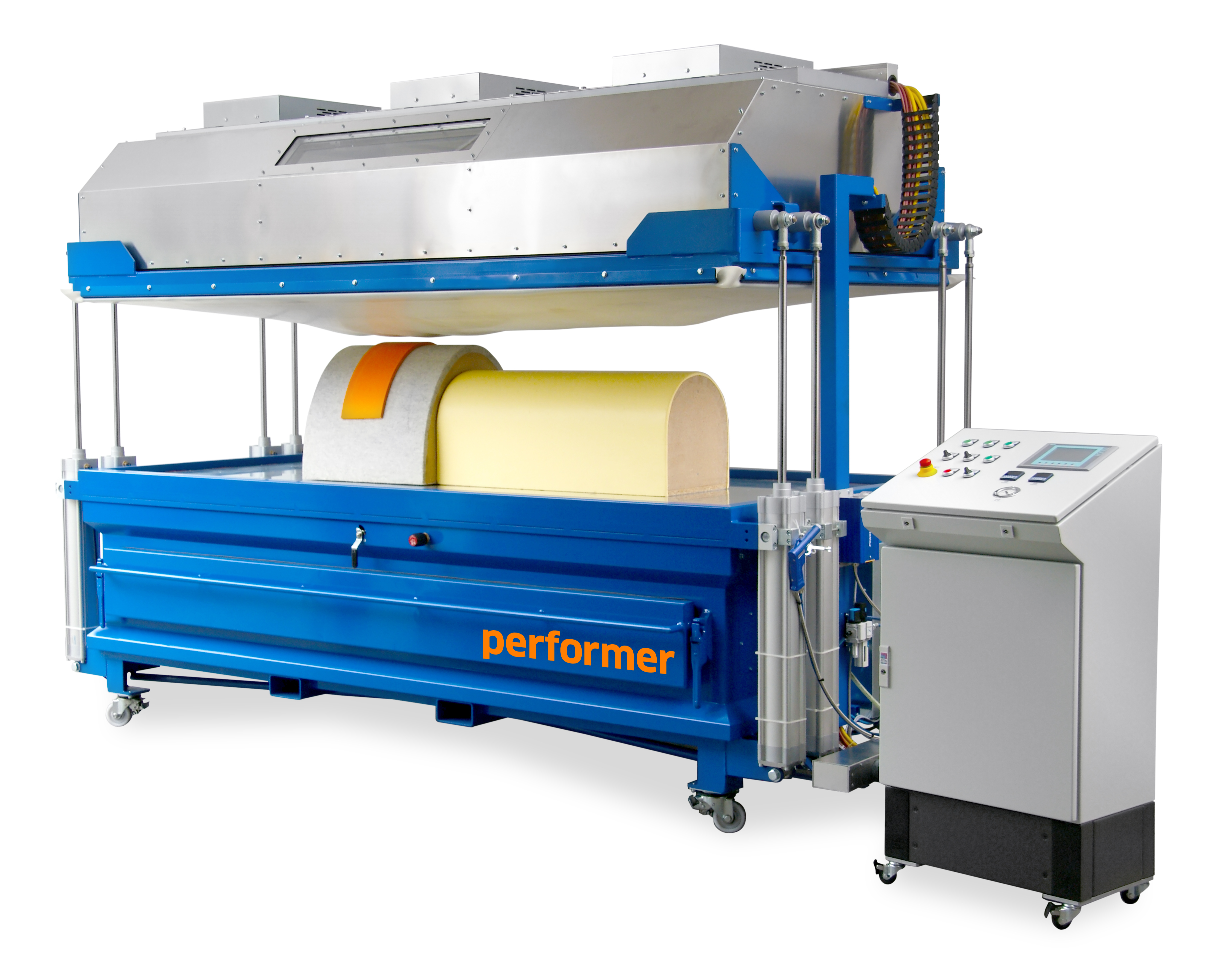 TECHNICAL DETAILS
---
PERFORMER –  the multitasking Thermopress-Centre
The multifunctional Vacuum Press for 3D-foil lamination, form-veneering and form-lamination, including a Heating Unit for all Thermoforming Materials
e.g., CORIAN, LG – HI-MACS, AVONITE, STARON, KERROCK, ABS, PMMA – Acrylglas, PVC, PC – (MAKROLON)
Vacuum Press – Forming Unit (for 3D-foil lamination, form-veneering)
Movable table with swivel-mounted heating cover and foil-fixation sealing frame
High performance rotary vane pump VT 3.80, nominal displacement: 80 m³/h, vacuum pressure to max. 900 hPa (9 t/m²)
Highly elastic silicone membrane (transparent)
Industrial Aluminum heating hood with fully insulated surface, variable adjustment 0 °C to 160 °C, Electrical connection (incl. heating cover): 13,5 kW,32 Amp. 400 V, 50/60 Hz, with 3 air circulation fans
Vertical adjustment (opening/closing the membrane frame and the heating hood) through 8 pneumatic lifting cylinders, range of stroke ca. 600 mm
Fully-automatic process control unit (Siemens Touch Panel)
Overall dimensions:  ca. 4000 x 2000 mm
Size inside frame:  ca. 2920 x 1320 mm
Heating oven (for all thermoforming materials)
Size drawer: ca 2600 x 1200 mm
Material thickness: 0 – 70 mm
Heating power: 13,5 kW, 400 V, 50/60 Hz, with 3 air circulation fans (overheating protection)
Variable temperature setting +230 °C
Electronic temperature control
Pull-out working surface, pattern 30 x 30 mm
Exact temperature distribution to the entire heating surface through Columbus CHS unique hot air heating system
Energy saving through low power input and tight closing lid
The technical data contained herein is subject to modifications.