COLUMBUS MULTIMAT
MULTIMAT – THE MULTIFUNCTIONAL VACUUM PRESS FOR 3D-LAMINATION, LAYER-GLUING, AND FORM-VENEERING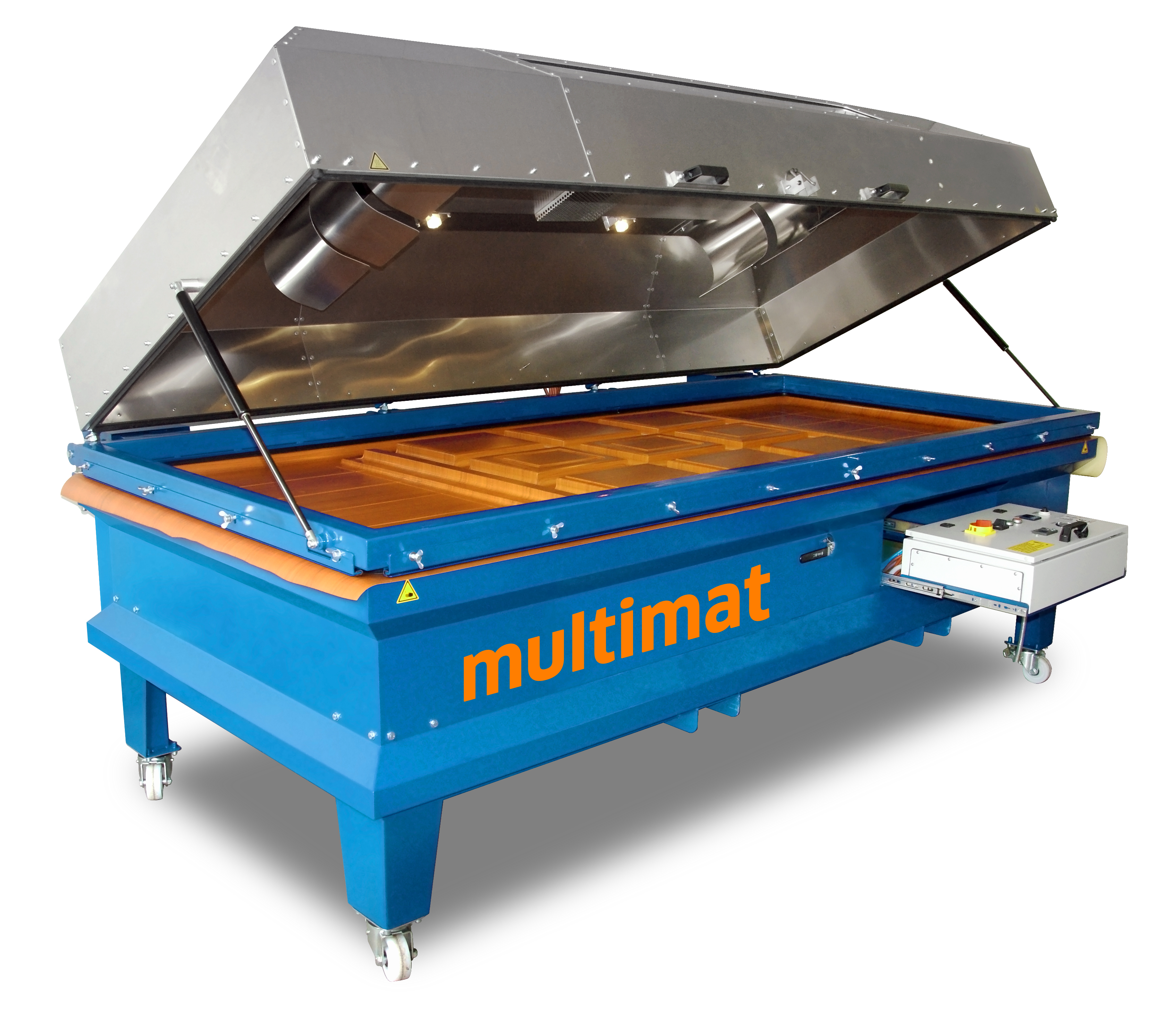 ---
MULTIMAT is the ideal combination of two pressing techniques in one simple machine:
Laminated Bending

Laminating and veneering of any form and shape with wood and board materials such as: bendy plywood, plywood, thick sawn veneer, MDF, etc.

Flat Pressing & Bonding

Flat pressing, veneering and bonding of various materials such as: wooden board materials, recycled wood, composite materials, honeycomb boards, glass, etc.

3D-Foil Laminating

3D-foil laminating of PVC and TPO furniture and interior foils from all renowned manufacturers such as: Renolit , Hornschuch, Riken, Gislaved, Kloeckner Pentaplast, Alfatherm, etc.
Vacuum 3D-foil pressing without the use of a membrane
Ideal for simple and efficient foil-coating of fronts, such as kitchen and washroom furniture, furniture parts, ornamental pieces, etc. Now you can avoid problems with retailers and delivery – such as long delivery times, pressure to acquire high quantity of parts, high delivery costs, etc. MULTIMAT units are inexpensive and easy to operate. They guarantee quick amortization even with the production of small batch sizes or built-to-order production.
Well-tried vacuum membrane-press technology
Professional layer-gluing of complex shapes ('Sandwich-technique'):
Curved furniture parts, parts for interior design, parts for countertops, boats, train cars, busses, and airplanes
Form-veneering and form-coating:
Profiles for furniture manufacturing and for high-end interior design solutions, table tops, work surfaces, coffin manufacturing, wall- and ceiling-profiles, technical profiles and moulds
2D- and 3D-forming of thermoplastic materials:
Forming of mineral-based materials (Corian, Staron, LG-HiMacs, Avonite, Marlan), acryl-based materials, ABS, etc. Ideal for interior construction, washroom furniture, built-to-order furniture parts, designer furniture, polyurethane foam for insulation parts (for the construction of boats, ships, train cars), specialty parts for technical use
Coating of plane and curved surfaces:
Boards, doors, countertops, plane and curved furniture- and interior construction parts, all other kinds of furniture parts
Gluing of bevels, edges, chamfers or profiles onto work pieces:
Ornamental frames and elements for furniture parts or doors, bevels and protection trims of doors, furniture parts, etc.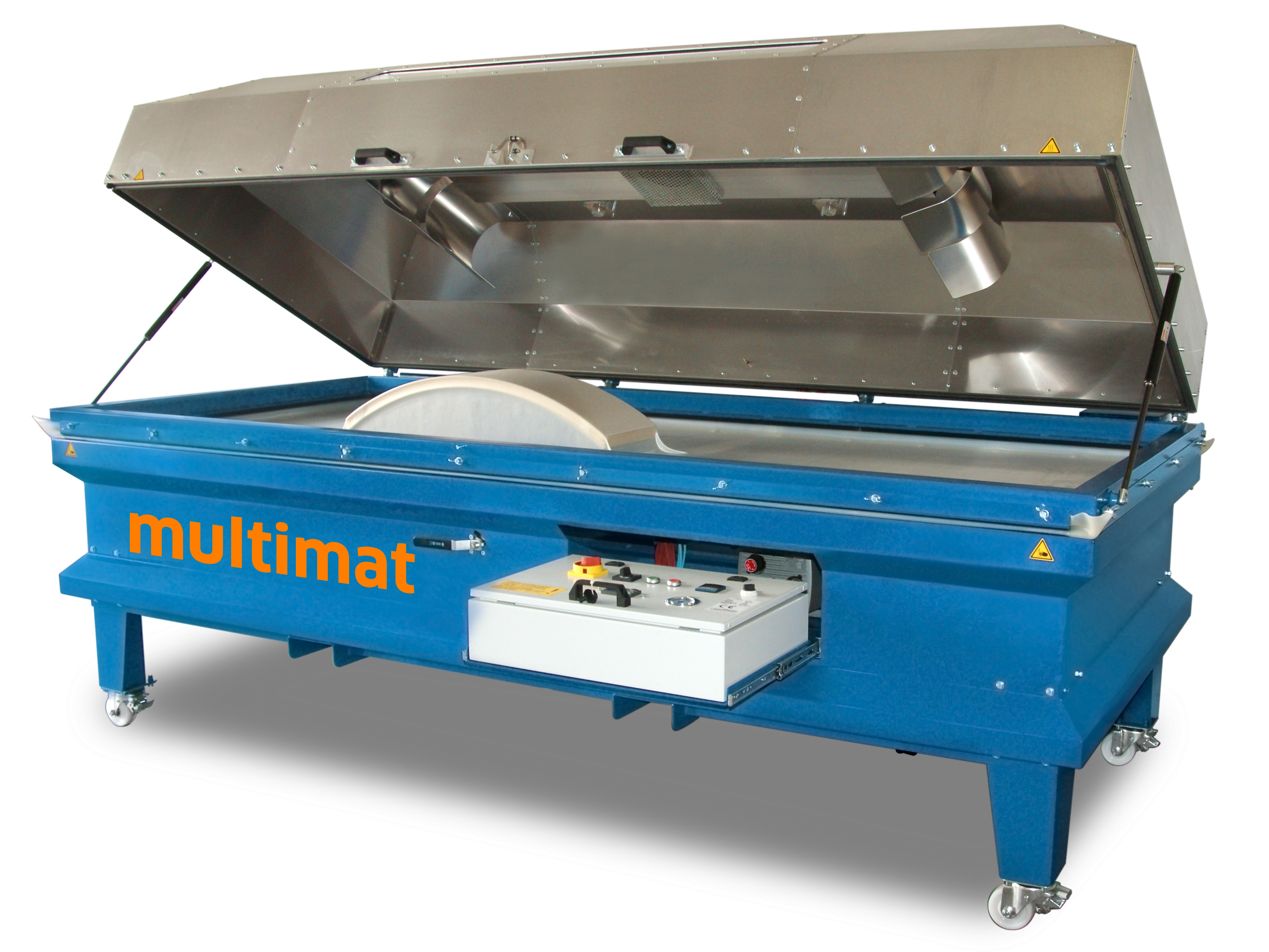 TECHNICAL DETAILS
---
MULTIMAT – 3D – Foil Vacuum Press
1 vacuum pump, nominal displacement 40 m³/h
vacuum pressure: max. 900 hPa (9 t/m²)
Extendable Control Panel:
The controls available vary in accordance with different MULTIMAT models
Vacuum Membrane:
Construction: vacuum-sealed inside the membrane frame
Material: highly elastic, robust, and durable silicon membrane
Manual stress: 18 N/mm², 700 % elongation at break point, highly wear-resistant
Thermal stress: -40 °C to maximal +220 °C
Heating cover:
1 aluminum cover (entire surface is insulated), attached to the membrane frame with swivels, includes interior lighting
1 circulating air heating system (electrical connection: 12 KW, 400 V, 50/60 Hz)
1 thermostat, seamlessly adjustable between 0 and 140 °C
2 pressure springs
Fully automatic process control unit
Optional settings:
Adjusting the pre-heating temperature
Adjusting the heating period
Adjusting duration of the vacuum pressing cycle
Adjusting duration of the vacuum cooling cycle
The fully automatic process control unit enables you to adjust the pre-heating temperature, the duration of the vacuum pressing cycle, and the duration of the vacuum cooling cycle.
Once the automatic process is initiated, the selected pre-heating time starts to count-down. After reaching the selected temperature, the vacuum pressing cycle is initiated automatically. Once the pressing cycle is completed, the heating cover is lifted automatically, so that the cooling cycle can commence. When the cooling cycle is completed, the vacuum pump is automatically turned off.
Closing of the heating cover is controlled by pushing the corresponding button. It opens automatically after the pressing cycle is completed. The pneumatic lifting and lowering of the membrane frame is controlled manually through the touch of a button.
The fully automatic process control unit makes use of a SPS control system with and includes an operating display.
Production capacity:
3D-foil lamination: approximately 5 – 10 minutes, depending on number of inserted work pieces (requires heating cover)
Vacuum layer-gluing: 15 minutes to 6 hours, depending on shape of the work piece and material/glue used
Vacuum form-veneering: between 10 and 30 minutes, depending on shape and type of glue used
(if the heating cover is used, the pressing cycle for layer-gluing can be shortened by up to 80%, the pressing cycle for form-veneering by up to 60%)
EQUIPMENT AND SCOPE OF DELIVERY
MULTIMAT – 3D-Foil Vacuum Press
Movable table with swivel-mounted heating cover and foil-fixation sealing-frame
High performance rotary vane pump VT 4.40, nominal displacement: 40 m³/h, vacuum pressure to max. 900 hPa (9 t/m²)
Foil-fixation sealing-frame mounted on a pneumatic swivel
including highly elastic silicone membran (transparent)
Aluminum heating cover, entire surface insulated, variable adjustment 0 to 140 °C
The entire unit is maintenance-free, the vacuum pump requires regular servicing
Electrical power connection (including heating cover): 14 kW, 400 V, 50/60 Hz
Sizes
External dimensions: ca. 3200 mm x 1600 mm
Size inside frame: ca.  2800 mm x 1200 mm
Work height: 900 mm