COLUMBUS VACUFIX
VACUFIX - THE INEXPENSIVE, TIME AND COST-SAVING VACUUM MEMBRAN PRESS FOR PRESSING, FORM-VENEERING, LAMINATING AND COATING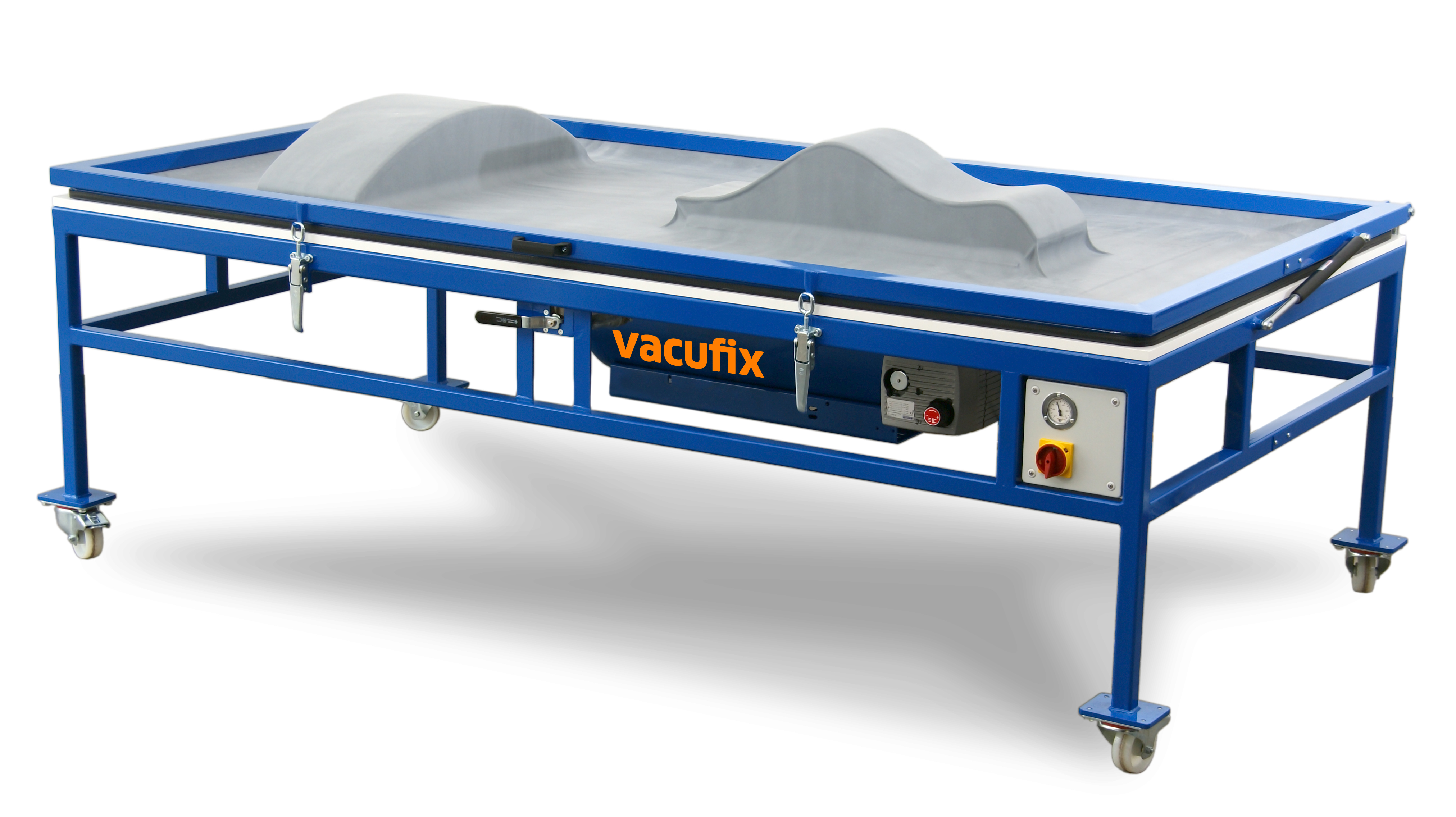 ---
VACUFIX is an outstanding value for money vacuum press that provides you with endless possibilities producing laminated, veneered and coated furniture, interiors and unique shaped parts.
…unlimited possibilities with VACUFIX
Laminated Bending

Laminating and veneering of any form and shape with wood and board materials such as: bendy plywood, plywood, thick sawn veneer, MDF, etc.

Flat Pressing & Bonding

Flat pressing, veneering and bonding of various materials such as: wooden board materials, recycled wood, composite materials, honeycomb boards, glass, etc.
laminating and forming (sandwich method):
formed furniture components, elements for interior finish and fit out, shop fitting, interiors and fittings for ships, trains, buses and airplanes, specially shaped parts for industry and technical purposes
forming and shaping of thermoplastic materials:
synthetic solid surface materials (Corian, Varicor), plastics like: PMMA (acrylic, Plexiglas), PC (Makralon), ABS (Novadur), PVC surface materials, etc.,
for interior fit out, bathroom and designer furniture, insulation parts made of rigid foam for the railway, boat and ship building industry, shaped parts for technical applications
bending of plaster-/drywall boards is also possible!
veneering and coating of shaped parts and materials:
profiles for furniture making and high end interior fit out, door panels, wall and ceiling battens, work tops, coffin manufacturing, window sills, technical profiles, formed parts for technical purposes
veneering, overlaying and bonding of flat and curved materials:
tops, boards, gates, doors, convex and concave furniture and interior components, various continuous interior fittings, overlaying with leather, textiles and paper, bonding of metal, glass, plastics, composite elements
gluing of edge strips and profiles onto work pieces:
decorative cladding and decorative battens for furniture or doors,edge bands, cover strips and protective profiles for front doors, furniture components and furnishings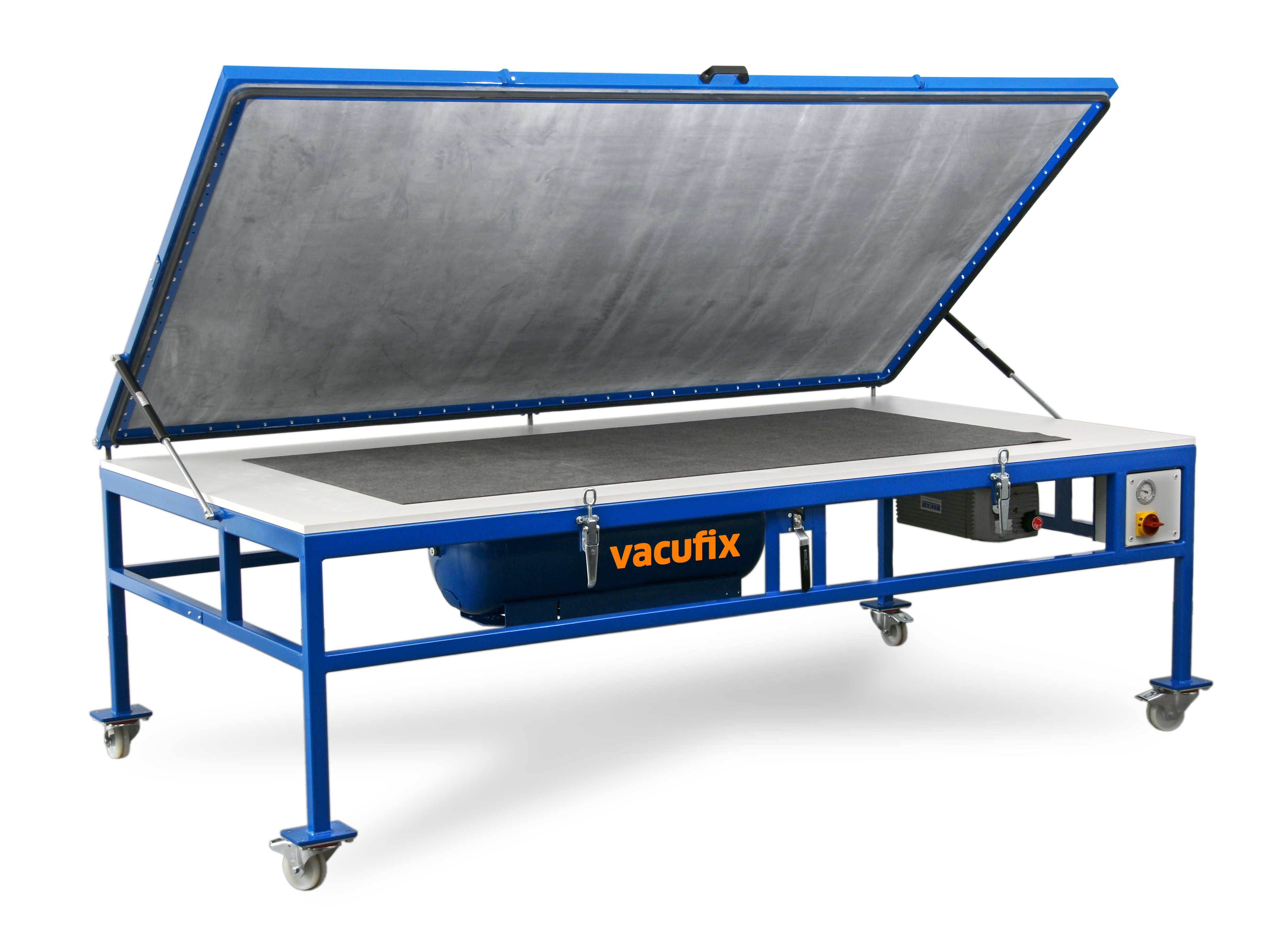 TECHNICAL DETAILS
---
electric connection: 400 V, 3 Ph., 50 Hz,
vacuum pressure: to max. 900 hPa (9 to/m²)
Control panel:
1 vacuum meter, 1 vacuum-pressure stat ranging from 0 to max. 900 hPa
1 lever for the evacuation process
Vacuum membrane
Construction: Fitted tightly into the main body frame
Material: highly elastic, robust, and long-lasting rubber membrane
Manual maximum load: 18 N/mm², 700 % ultimate elongation, extremely tightly sealed
Thermical load: min. -40 °C, max. +130 °C
VACUFIX can also be outfitted with a heat-resistant silicone membrane (max. 220 °C).
EQUIPMENT
stationary pressing table WITHOUT wheels
rotary vane vacuum pump VT 4.16
vacuum pressure to max. 900 hPa (9 t/m²)
nominal displacement: 16 m³/h, with vacuum pressure valve
pressing frame with high elastic rubber membrane (700 % elongation)
max. temperature: +130 °C
electrical connection: 400 V, 3 phases, 50 cycles
VACUFIX Standard:
overall dimensions: ca. 2750 x 1500 mm
size inside frame: ca. 2540 x 1320 mm
VACUFIX XL:
overall dimensions: ca. 3150 x 1500 mm
size inside frame: ca. 2920 x 1320 mm
Additional Equipment
100 liter vacuum pressure tank
Rotary vane vacuum pump VT 4.25, displacement 25 m³/h (instead of VT 4.16) for a faster air evacuation with large-scale forms
Wheels (swivel castors), for a mobile VACUFIX in the workshop area
Heat resistant silicone membrane temperature max. +220 °C, instead of the rubber membrane
Protection cover for the membrane (made of felt), size: ca. 2000 x 1000 mm, usable up to 80 °C