HOLZ-HER EVOLUTION 7401/7402
Intelligent solutions for drilling, grooving and milling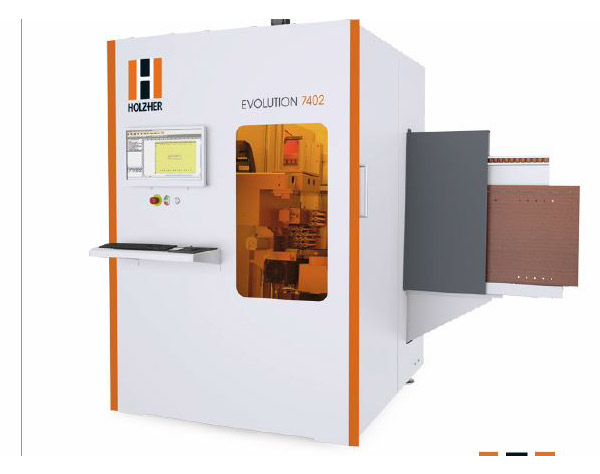 ---
The technical data for the EVOLUTION series speaks for itself:
Workpieces with height up to 920 mm and unlimited length can be processed with the smallest possible space requirements.
Material thicknesses of 8 to 70 mm make the vertical machining centers from HOLZ-HER all-round machines for producing everything from drawers to body parts, furniture fronts and rear walls.
Campus Software Package guarantees simple and clear programming.
The solid design of the EVOLUTION series guarantees short cycle times and maximum machining quality.
Fully equipped drilling head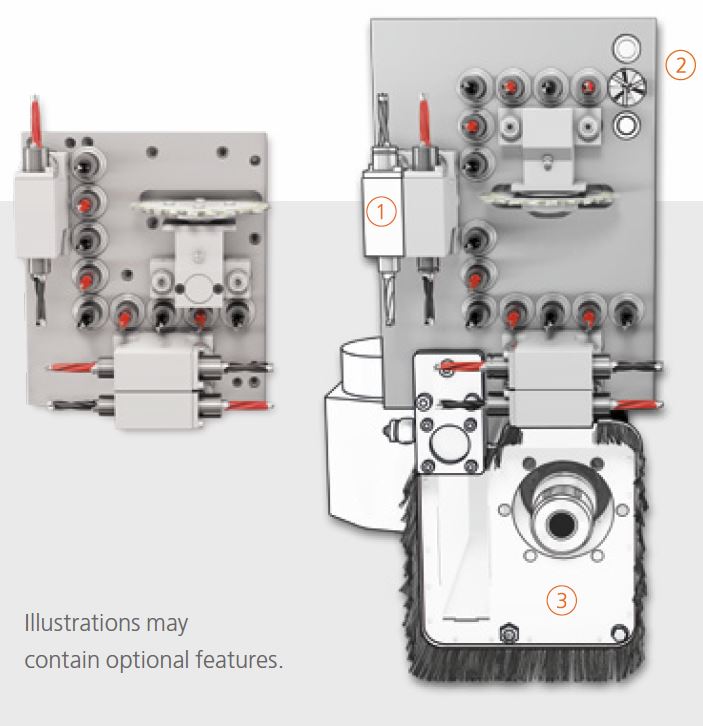 15 drilling spindles for 5 in-line holes each in X and Y directions as well as 6 horizontal drills and integrated sawing unit for quick and precise results (Fig. bottom left).
As an option, the EVOLUTION series can also be equipped for even higher performance with an XL-drilling head, with up to 22 drilling spindles and grooving saw (Fig. bottom right).
XL drilling head supplements
1. Additional double drilling spindle in Y direction
2. Vertical adapter with extra strong spindle
3. Cutting spindle (on EVOLUTION 7402 only)
Your design ideas perfectly implemented
HOLZ-HER's EVOLUTION Series ensures rational machining and maximum flexibility especially for production of furniture parts. And this, in spite of minimum space requirements.
Simple programming
Equipped with a 21.5″ monitor (16:9) and latest version of the user-friendly CAMPUS/NC Hops Software including aCADemy CAD, DXF import and versatile macros (Fig. 1).
Innovative vacuum clamping system
Ideal for highly differing, even highly sensitive materials. Wide selection of suction cups e.g. for solid wood.
Enormous flexibility
Machining of panel material with length up to 2,500 mm and width up to 920 mm without additional extensions. Even workpieces with dimensions up to 200 x 70 mm are no problem. Fully automatic workpiece thickness adaptation from 8 to 70 mm – without setting up anew.
Automatic tolerance correction (optional)
Determination of exact length dimension and automatic correction of tolerances for dimension-dependent drilling. Ideal as perfect supplement for high precision drilling, e.g. for workpieces which have already been edged (Fig. 2).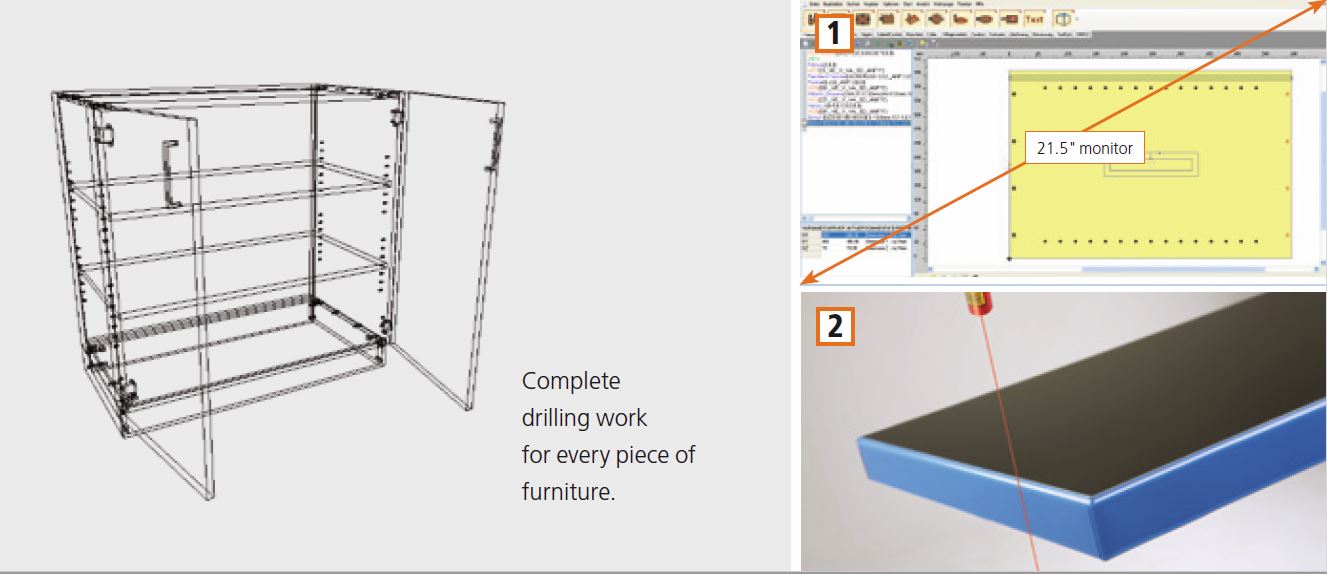 The EVOLUTION 7403 from HOLZ-HER – Vertical CNC-Machining Center (Metric) from HOLZ-HER GmbH.