HOLZ-HER PRO-MASTER 7225
The power package in the 5-axis class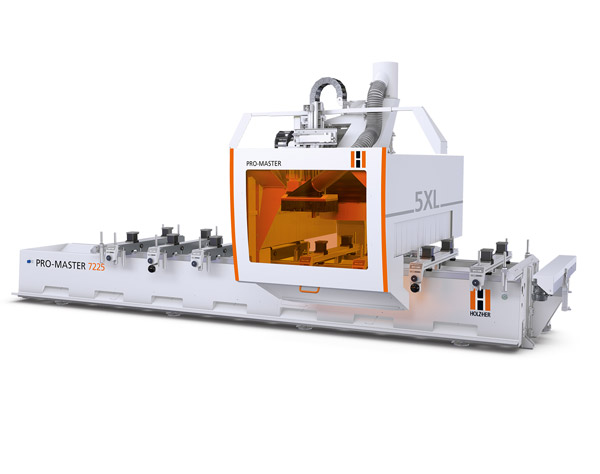 ---
Our PRO-MASTER 7225 opens up a completely new dimension in our production line for craft shops and industry for machining wood and plastics. The heart is the compact, articulated 5-axis head, allowing completely free motion. Drives and control equipment for each state-of-the-art generation ensure use in nearly unlimited applications. The HOLZ-HER module system allows custom adaptation of the machine to specific shop requirements.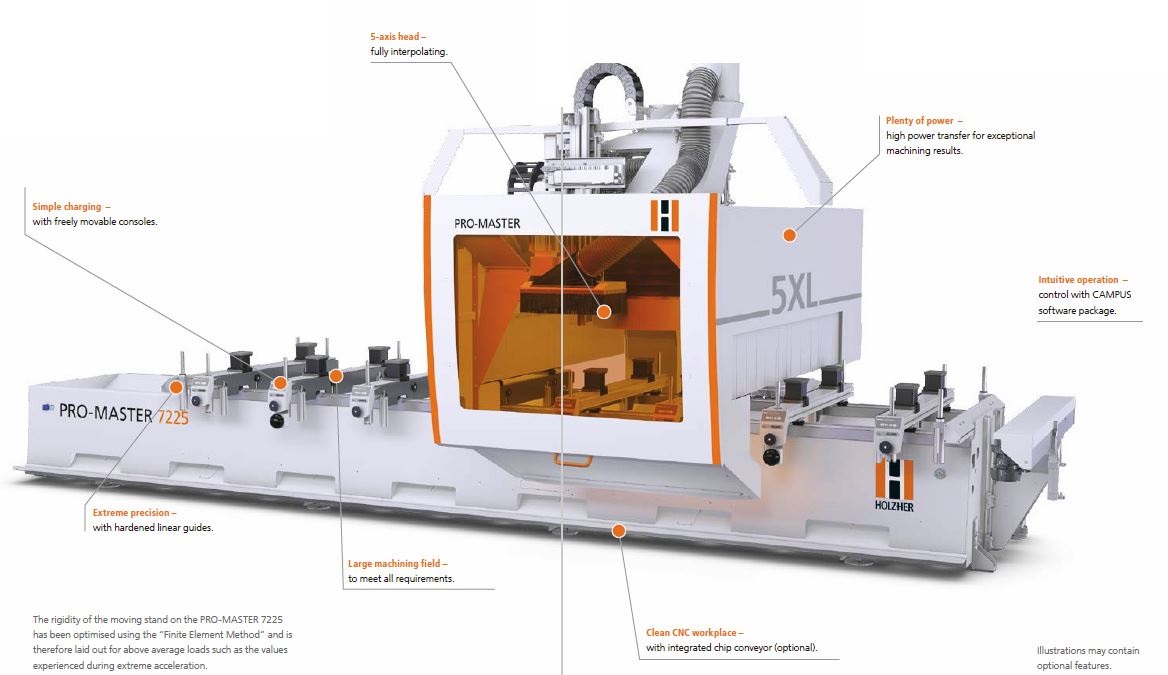 Production in the 5th dimension
The heart is the machining head; with its freely moving axes it can machine curved parts in all dimensions. The powerful 5-axis machine is also perfect for panel-shaped workpieces – particularly the economy aspect is interesting here.
5-axis head, A and C-axes interpolating, pivoting.
A-axis: +/- 180°, C-axis +/- 360°.
Powerful: 10 kW jointing cutter unit.
Fast and flexible: Infinitely adjustable speed from 1000 to 24000 RPM, HSK 63 F tool holder.
5-axis head, liquid cooled for maximum service life even under heavy loads.
Long service life: Solid design with ceramic bearings on both sides for high load-bearing capacity.
Z-stroke 565 mm, workpiece height 300 mm.
Optional 17-kW motor for heavy work with solid wood. Infinitely adjustable speed from 1000 to 24 000 RPM PRO-TORQUE LOCK: Locks quickly in any position for A and C-axis, maximum rigidity for cutting under high loads with perfect results.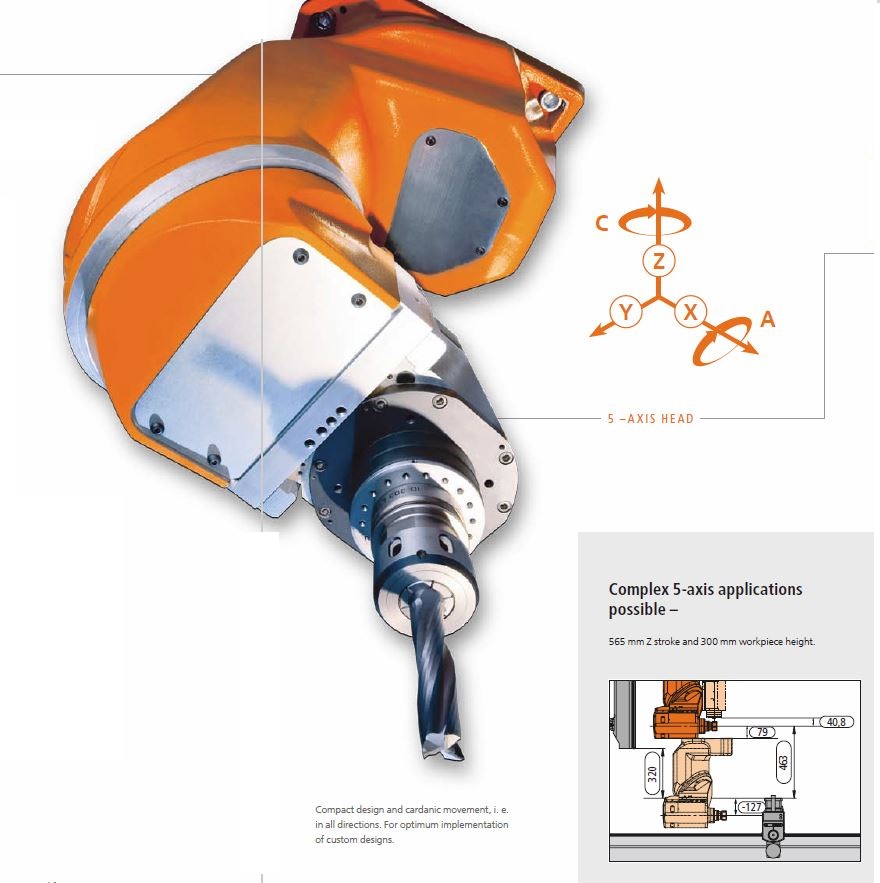 Extremely rigid and hardened linear guides: Precision guaranteed
Solid consoles with single circuit vacuum system, six easy moving cross members – can be clamped pneumatically in X direction [Fig. 1].
Measuring tape in X direction for quick console positioning. Additional consoles available as options.
Individually switchable vacuum zones to prevent  vacuum losses.
High performance vacuum pumps – 100 m3/h. Optional: Vacuum pumps with capacities of 140 m3/h and 250 m3/h.
Energy efficient vacuum pump control with automatic switch-off.
Moving stops, eccentric in hardened guide bushings. Stops can be lowered pneumatically.
Central lubrication minimizes maintenance work and ensures long component life.
Automatic central lubrication (optional).
Hand-held control unit for remote control of machine.
Coordinated performance profile
Addition machining fields for high capacity [Fig. 1].
125 millimetre high suction unit provides 5-axis head sufficient clearance from below. Measuring tape for quickly and simply positioning suction unit in Y direction [Fig. 2].
Four pneumatically operated charging aids can be raised and lowered to position heavy work easily [Fig. 3]. Additional charging aids available as options.
Large selection of frame clamping systems [Fig. 4].
Laser pointer for exact positioning of vacuum suction pads or tracing workpiece contour, attached on right and left sides of machining head (optional) [Fig. 5].
Contour laser – projects entire work contours and all required vacuum  suction pads simultaneously as well as all console positions without limitation for number of lines to be projected (optional).
Two large push buttons for clamping [Fig. 6].
Side consoles for storing vacuum suction pads when not in use.
Nesting table with grid (optional) [Fig. 7].

Top Performance: Control
The HOLZ-HER machine control system is an integral part of the machine's design. The equipment includes the CAMPUS package (office and machine licence) with integrated CabinetControl Base software. This package provides all prerequisites for effective machining and convenient operation, such as barcode interface, hand-held control and import capabilities. The open
software architecture allows simple linkage to third-party software for transferring models to the 5-axis machining centre.
CAMPUS – with integrated CabinetControl software
CAMPUS aCADemy [Fig. 1] is a fully fledged, high-performance CAD/CAM software package with versatile import features.
In addition to variable programming, 3D views and simulations, the CAMPUS NC-Hops-Editor [Fig. 2] offers full Z-axis interpolation and a text editor. – "Easy snaps", adjustable parameters and well-conceived macros additionally simplify and speed up program control.
The CAMPUS WorkCenter shows the occupancy of the machine table. Tools, drilling heads and routes are automatically optimised over the workpiece as a whole and the machining times are calculated [Fig. 3].
The CAMPUS MT-Tool-Manager allows clear, graphic set-up using »Drag & Drop« [Fig. 4].
Open software architecture allows uncomplicated incorporation of existing data and connection to a wide range of branch, design and CAD/CAM software [Fig. 6].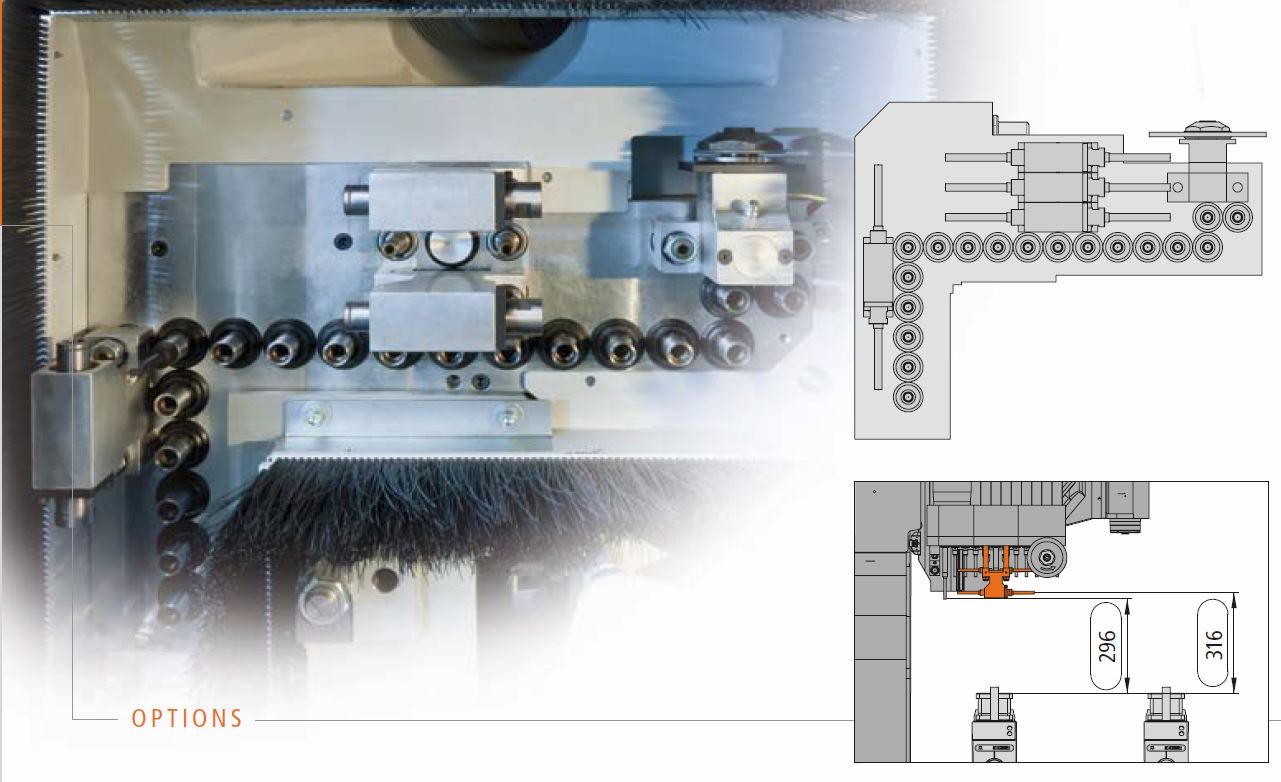 Multifunctional for everyday use
The PRO-MASTER 7225 is perfectly equipped with the optional integrated drilling head.
Drilling unit 7881 with 18 vertical spindles (X = 11 + 2 / Y = 6), six horizontal spindles (two double drilling spindles in X direction / one in Y direction).
Can be upgraded with grooving saw and third, double drilling spindle in X direction.
Optimum arrangement of 5-axis cutting spindle and optional drilling head allow the entire cutting path to be grooved in all applications.
Holes can be drilled in a row in the X direction up to 1,140 mm from the front row of stops.
Optional pressure booster for even more drilling unit power.
Three tool changers
The pick-up tool changer with double magazine is available for large mitre gears and long tools. It is installed on the left in the machine frame and is raised pneumatically (optional).
Variable equipment for rational machining. The tool changer with 6, 8, 12 or 18 tool spaces moves along in the X direction automatically, ensuring short set-up times and high productivity
(optional).
16-fold pick-up unit for permanent installation on right side of machine (optional).
High-Performance 5-Axis Technology from HOLZ-HER GmbH on Vimeo.