HOLZ-HER PRO-MASTER 7222
Dynamics, Power and Performance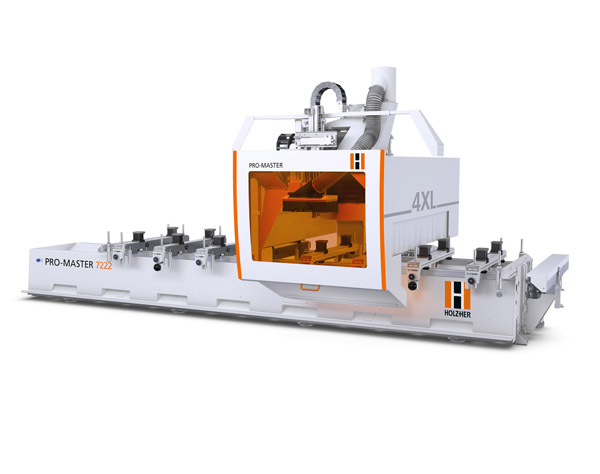 ---
The powerful efficiency of the PRO-MASTER 7222 CNC machining center is impressive. The PRO-MASTER 7222 can easily handle even difficult machining jobs on solid
wood and special materials. A comprehensive package of accessories ensures perfect adaptation to every application.
Dynamic operation combined with heavy duty, torsionally, rigid design guarantee optimum work results.
User-friendly software as complete package with CAMPUS machine and offi ce license.
Edge routing and drilling up to maximum dimensions of 7,220 mm x 1,580 mm (minus cutter radius).
11-kW power spindle with ceramic bearings can be upgraded to 16 kW for extremely heavy work.
Optional, fully interpolating C-axis for even higher performance.
Precision direct drives with exceptionally high dynamic acceleration values for extremely high productivity.
Powerful High-End CNC for Heavy-Duty Machining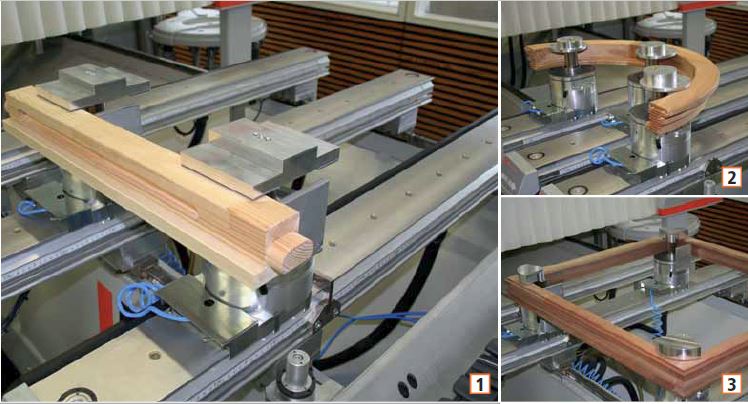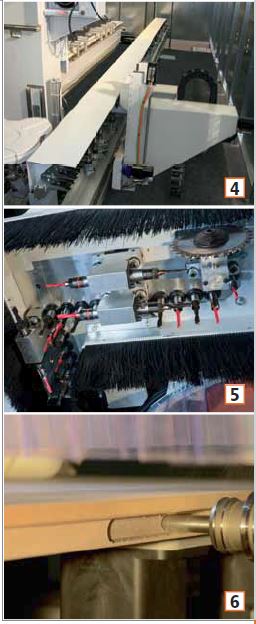 Workpiece Clamps
Variable system of matched workpiece clamps for straight and curved frame parts (optional, Fig. 1/2/3).
Tool Changer
Innovative shuttle-type tool changer with up to 60 tool locations supplements the selection of traveling disk changers (Fig. 4).
Drilling Head
Optional 24 spindle drilling unit and integrated grooving saw for even more effi cient completion of all hole patterns (Fig. 5).
Lock Case Cutter
High performance horizontal cutting unit for effective machining of door and frame parts (Fig. 6).
CAMPUS Package
High quality, user-friendly CNC software with office and machine license. Extensive 3D simulation module as standard feature. Integrated CAD module and versatile macros for easy programming.
CabinetControl Base
Furniture design and complete CNC programs finished in minutes with just a few mouse clicks.