HOLZ-HER PRO-MASTER 7125
The High Performance 5-Axis Machining Center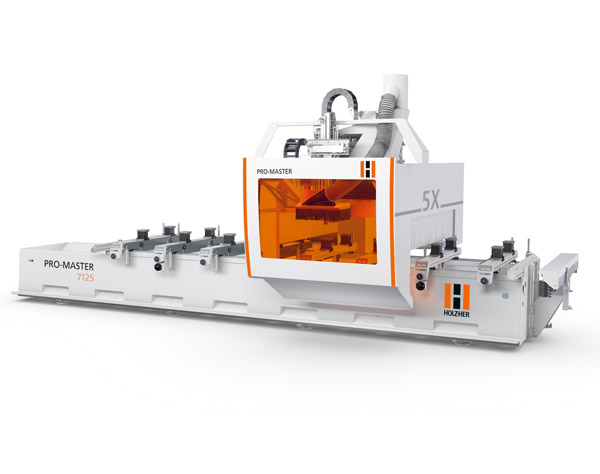 ---
The PRO-MASTER 7125 opens up nearly unlimited possibilities to users for machining wood and plastic. The MANUAL or X-MOVE-TABLE allow the performance range of this 5-axis power package to be adapted modularly to virtually all operating situations.
Highly dynamic drives and control engineering for perfect results. Laid out for above average loads and extreme acceleration values.
Powerful, fully interpolating 5-axis head – optionally with 17 kW drive and unique PRO-TORQUE technology for the heaviest work.
State-of-the-art safety concepts give you the choice between patented 3-field foot mats or safety bumpers. This allows you to match the HOLZ-HER machining centers individually and reliably to your operating situation.
High-End 5-Axis Power

Cardanic-Mounted 5-Axis Unit
Solid design with ceramic bearings on both sides and extreme Z stroke of 565 mm make this cutter unit highly flexible for universal applications. An effective machining height of 210 mm from the top of the suction cups opens up entirely new possibilities. The programcontrolled evacuation hood ensures efficient chip removal (Fig. 1).
Drilling Head
A 16-spindle (standard) or, alternatively, a 24-spindle (optional) drilling head are available for hole patterns. Both drilling units are equipped with integrated grooving saw (Fig. 2).
Machining Tables
Stable, highly accurate console tables with stops at front and rear and four feeding supports are available for all application ranges as manually or automatically positionable versions (Fig. 3).
Open System Architecture
Simple connection to 5-axis CAD/CAM software from all manufacturers. The optional CURVE-3D performance package ensures optimum dynamics, best cutting results and maximum machining rates for cutting curves and three-dimensional shapes (Fig. 4).
CabinetControl Base
allows you to design furniture and create complete CNC programs in minutes with just a few mouse clicks. High quality, user-friendly CNC software with office and machine license. Integrated CAD module and versatile macros for easy programming, displayed on large 19″ monitor.
High-Performance 5-Axis Technology from HOLZ-HER GmbH on Vimeo.