HOLZ-HER PRO-MASTER 7017/7018
High Efficiency Drilling and Formating Center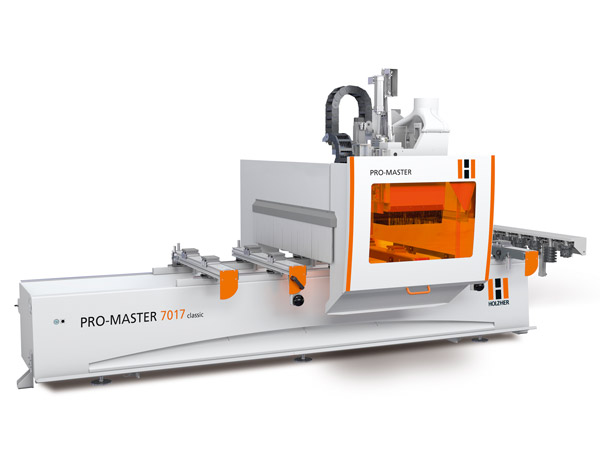 ---
The PRO-MASTER 70 series from HOLZ-HER makes it easier than ever to decide in favor of efficient CNC technology. The 70 series offers rational machining and a high level of flexibility especially for production of case parts. This well-thought-through concept offers solutions for all applications – choose the right model for your application. State-of-the-art safety concepts give you the choice between patented 3-field foot mats, safety bumpers or light grids. This allows you to match the HOLZ-HER machining centers individually and reliably to your operating situation.
High equipment level with six consoles, drilling head with grooving saw, positioning laser and tool changer as standard features. Edge routing and drilling up to max. 3,540 x 1,287 mm as well as 5,340 x 1,287 mm on the 500K version (minus radius of cutter). Actual machining height 180 mm.
User-friendly software as complete package with CAMPUS machine and office license.
Spindles with ceramic bearings for efficient and precise milling and formatting.
11 kW power spindle and C-axis for even higher performance (optional).
Precision direct drives with exceptionally high dynamic acceleration values for extremely high productivity.
Tool Changer
12-position traveling disk tool changer for effective pendular processing as standard equipment on the PRO- MASTER 7017 performance and 7018 premium (Fig. 1). Options include an 18-position disk tool changer or a 12-position pick-up tool changer for highly varying tools.
Machining Head
Powerful spindle with ceramic bearings and drilling head with integrated grooving saw (Fig. 2); including fully interpolating C-axis on PRO-MASTER 7018 premium and integrated torque support for changeover units on 7017 (C-axis optional).
Linear Guides
High precision ground linear guides with steel strip cover on all moving axes. Extremely long service life and smooth operation, backed up by HOLZ-HER's 10 year guarantee (Fig. 3).
Universal Clamping Systems
A variety of suction cups and frame clamps available for processing panels and solid wood as well as an actual working height of 180 mm ensure an enormous range of application for HOLZ-HER's 70 series (Fig. 4).
Lock Case Cutter
A powerful 5.6 kW motor on the optional horizontal cutter unit makes the PRO-MASTER 7018 the absolute machine for professional door production. HOLZ-HER also offers a wide matching selection of reliable, high performance changeover units for all types of applications (Fig. 5).
Variable Safety Concepts
Depending on your operating situation you can choose freely between light grids and 3-field foot mats or safety bumpers for highly efficient pendular processing

CAMPUS – with integrated CabinetControl Base Software
CAMPUS aCADemy is a full fledged, high-performance CAD / CAM software package with versatile import features.
In addition to variable programming, 3D views and simulations, the NC Hops editor offers full Z-axis interpolation and a text editor.
»Easy Snaps«, adjustable parameters and wellconceived macros additionally simplify and speed up program control.
The Workcenter shows the occupancy of the machine table. Tools, drilling heads and routes are automatically optimized over the workpiece as a whole and the machining times are calculated.
The MT Tool Manager allows clear, graphic set-up using »Drag & Drop«.
3D simulation module with integrated processing simulation.
Open software architecture allows simple incorporation of existing data and connection to a wide range of branch, design and CAD / CAM software.
The high performance All-Round Talent
Your choice – perfectly matched to your requirements as PRO-MASTER 7017 classic and performance or the more powerful version – the PRO-MASTER 7018 premium.
Powerful cutter units with ceramic bearings, guided by directly driven, high precision servomotors with absolute sensors for enduring precision.
Three precise and dynamically controlled axes on the PRO-MASTER 7017 – can be upgraded to include a fully interpolating C-axis.
Four axes as standard features on the PRO-MASTER 7018 premium – all axes fully interpolating for maximum flexibility.
The optional Vario5 unit takes the horror out of angles and miters – simple to program, the cutting angle is adjusted fully automatically under CNC control ensuring absolute precision
(prerequisites: C-axis and pneumatic interface).
Can be upgraded with a large selection of  high quality, long life changeover units for highly varying applications.
The comprehensive basic equipment and mature solutions ensure enormous versatility for a wide variety of special applications.
With 180 mm from the top of the suction cups, the 70 series from HOLZ-HER offers the maximum working height in its class.
Machining Head – equipped for all Requirements
An L-shaped drilling head with 24 spindles, a grooving  saw and powerful 3 kW motor are standard features on the PRO-MASTER 7018 premium. With the PRO-MASTER 7017 you can choose between a drilling unit with 16 spindles or a special drilling head with 24 spindles for production of furniture (Fig. 1).
Contour Laser – the complete Positioning Solution (optional)
Makes positioning suction cups, frame clamps and workpieces easy as pie. With the contour laser it is easy to project even complex workpiece contours (Fig. 2).